Ah, the kitchen—presumably that one spot in your home where you spend most of your time. It's one place in the house where you can prepare and cook good food, incorporate your sophisticated taste, and spend time with family and friends. How you style your kitchen somehow reflects your overall taste as a homeowner.
For sure, you've used more than a few kitchen styles and decors since you built your house. Renovating or redecorating such a particular space isn't something new. It's even encouraged if you want to get a unique vibe now and then. And if you're already running out of new ideas to try, why not consider adding wooden accents this time around?
A Touch Of Wood Would Be Good
Initially, your dream kitchen would probably consist of sleek-looking materials and appliances such as marble slabs and tiles. But then, bear in mind that if you're on the hunt for striking yet durable elements for your kitchen, you shouldn't neglect one of the most classic and aesthetically looking materials around—wood.
Crafting a wood-filled kitchen isn't an easy undertaking, but it's not entirely unachievable. From countertops to cabinets, shelves, tables, and whatnots, timber is a delight in just about any kitchen or home, for that matter. For countertops alone, there are unique ways and ideas you can try to make wooden accents work for your kitchen. Just looking at this guide can easily convince you of the durability and ease of maintenance that this material would require.
To give you further insight, here are some tips you can consider to make wooden accents work for your cooking space at home:
- Go For Natural Pairings
It's a bit tricky to find materials that pair well together. In your case, you're looking for elements that can go pleasantly well with wood, regardless of where you plan to incorporate such features. One good idea is to go for a monochromatic approach that won't overpower any of the components you plan to add to your kitchen.
For instance, dark marble tends to look great when paired with dark wood of the same shade. This idea can be applied to your countertops and kitchen islands, especially if you want the surface to be as durable and sleek as marble.
If you want a contrasting effect, you can go for dark marble and then pick wooden accents that are lighter but with stronger textures, such as teak, walnut, or Brazilian cherry. People who are into darker accents might consider the idea of a trendy black kitchen style accentuated with wooden elements to be a strikingly unique one.
- Mount Your Windows And Doors With Wood
If you want the wooden accents to be less in-your-face but still noticeable in the kitchen, why not consider framing the doors and windows with wood materials? This trick can instantly transform the vibe of your cooking space into something cozier and more inviting. Instead of painting or staining the wood finish, you can just leave it be and let the natural charm work its way into your and your guests' hearts.
Or, if you want something bolder and more conspicuous and all, you can even swap out your existing doors and windows with wooden ones. Doing so can surely bring the beautiful wooden accents to a whole new level.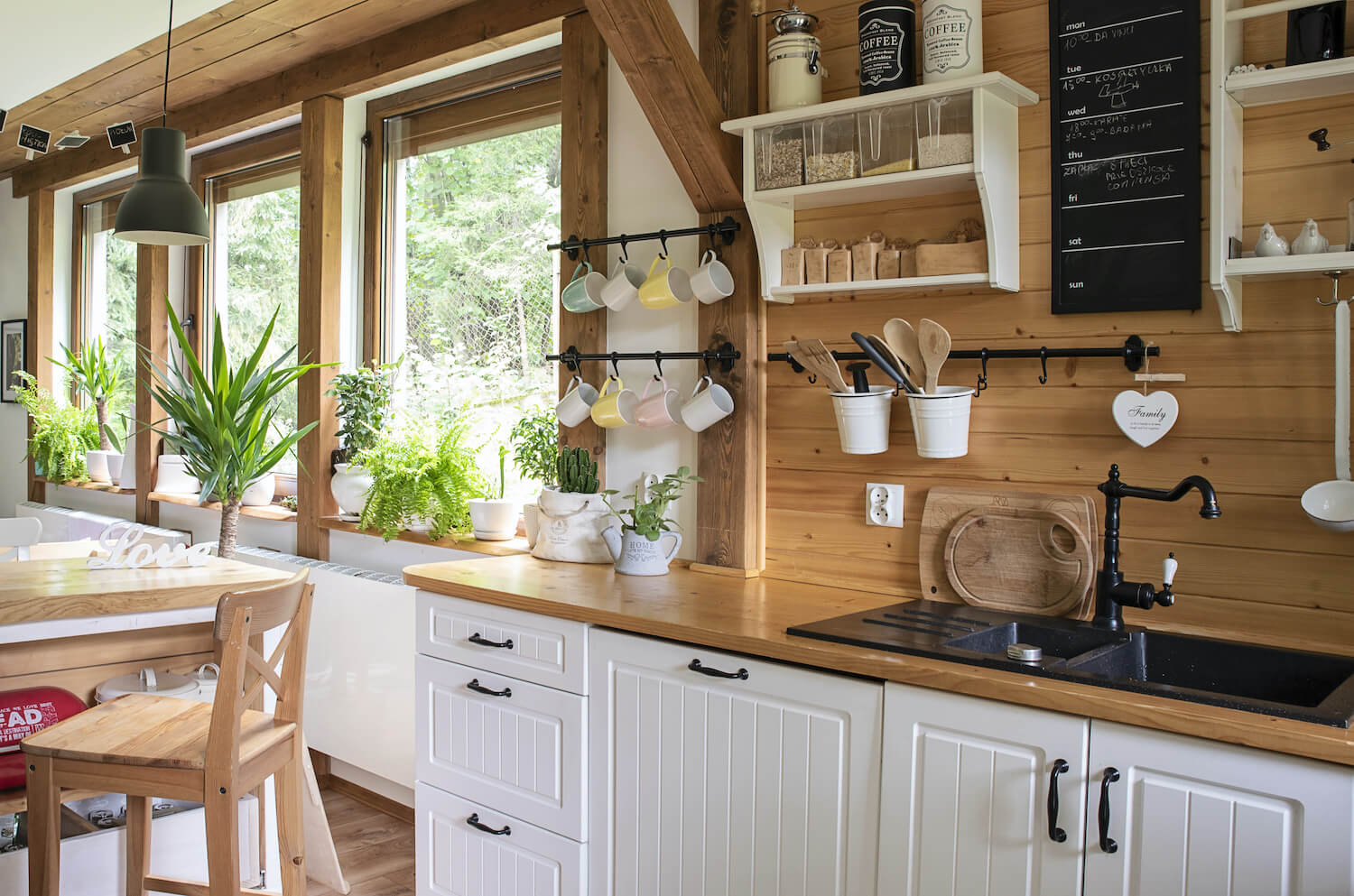 image © liloon
- Choose Only One Wood Stain
If you want the space to be more on the minimalist side, you may very well do so by choosing only one wood stain in all the wooden accents you plan on using for the entire kitchen. This means sticking to a unified color to make the kitchen look less cluttered and somewhat confusing.
For example, if you've chosen a lighter stain for the floor, say, honey maple or whitewash, you might want to stick to that same finish for the other parts of your kitchen. So, your walls and ceilings also need to be of that particular light stain to match the overall décor of the area.
Don't worry, because doing so doesn't mean you can no longer add extra colors or textures to the space. You can still add contrast and color by using different shades for your countertops, shelves, and appliances.
Wood In The Kitchen: Would You?
Wood is indeed one of the most versatile materials you can use in accentuating your kitchen. It pairs well with almost anything, and it's perfect for when you want to add more character and texture to your cooking and dining space. To add, wood also somehow makes the kitchen look warmer, cozier, and more inviting than it already is.
Wow your guests with kitchen wooden accents. They'll surely love how you've uniquely incorporated this natural material into different corners and aspects of the area. Next thing you know, you're already considering making the wooden switch on the rest of your home.
Rose Williams
Rose Williams is a professional in the interior design industry for almost a decade. Besides taking on different home remodeling projects and teaching at a local college in their city, they love to write blogs about design tips and tricks on the Internet in their spare time.
---