Wallpapers are a great way to spruce up your walls. While regular paint on a wall is classic and timeless, design is all about new and contemporary advancements. The printed wallpaper we see today has been around since the 1700s where wallpaper was being manufactured in bulk. Before this, wallpaper was usually hand-painted with traditional and oriental patterns. Wallpapers quickly became a quick and easy solution for covering plain walls. Modern wallpapers can be printed with custom designs, patterns and textures. Recently, a newer trend of Rifle Paper Wallpaper is doing the rounds in the home decor market. The brand Rifle Paper produces these distinctive pieces that have a pattern motif, and handprinted illustrations with an extraordinary palette of colour. These Rifle Paper wall coverings are proving an aesthetic addition in many homes.
Wallpapers In The Living Room
For a living room, wallpaper is the best way to complete the space. You may want to choose subtle and minimalistic wallpaper or wall coverings to be the perfect backdrop for brightly coloured furniture or you may want to brighten up space with exciting and fierce patterns and colours. The living room is the most public part of your house where family members and guests will see the most.
The interior design of the living room should be striking and must draw the attention of the people within the room. It should also set the tone for the rest of the house.
So What Goes Into Choosing The Right One For Your Living Room?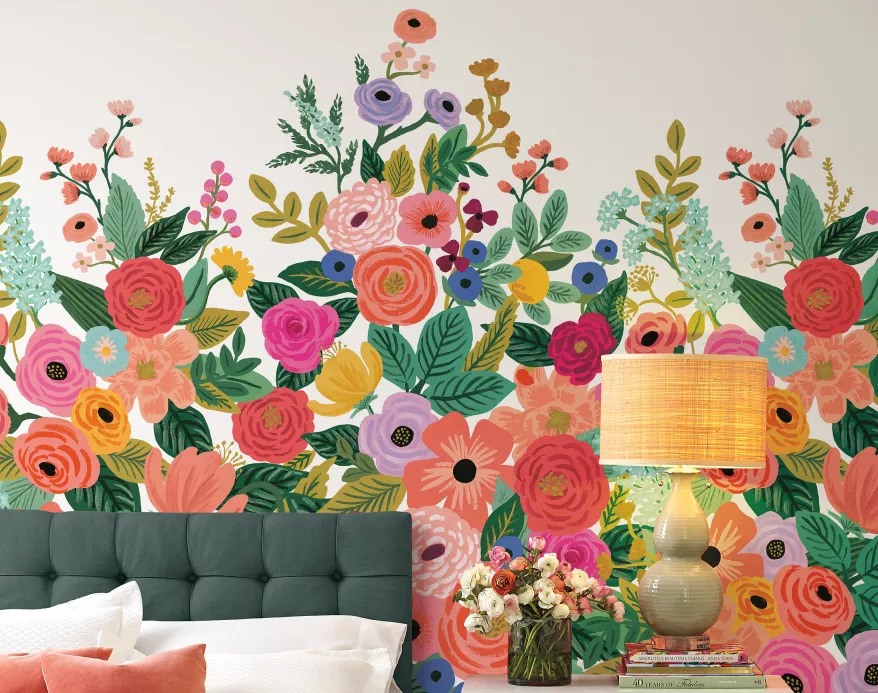 1. Colours
It is important to choose a wallpaper that best suits your vision and choice of aesthetic. For example, If you want an overall warm tone for the house choosing warm shades would be the best to round up space. If there is more than one colour on the wallpaper in the form of patterns, having highlights and accents of cool colours might give it a certain edge and make it visually interesting.
Wallpapers by Rifle paper wall coverings are one such type that is available in a range of pattern, textures and finishes to accentuate each space elegantly.
2. Patterns
Choosing the right patterns is paramount to maintaining an aesthetic. Choosing an overpowering pattern for a living room with lots of furniture might have an extremely crowded and jarring feel.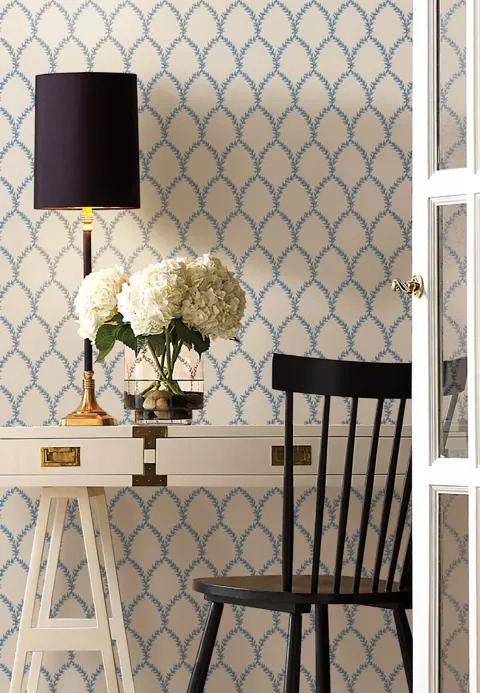 3. Textures
Some decor elements like Rifle Paper Wallpaper comes with textures that cover the whole sheet on top of which a print is added. On the other hand, some wallpapers have 3D patterns themselves where prints slightly bulge or dip from the sheet.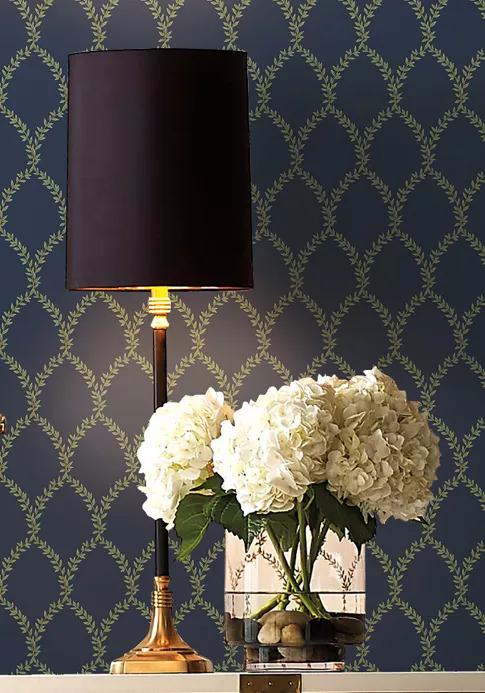 4. Prints
Custom images can be printed on wallpapers like personal images, customized graphics and patterns. Wallpapers can also be printed with textures/ patterns of real materials like wood, stone, tile, brick etc.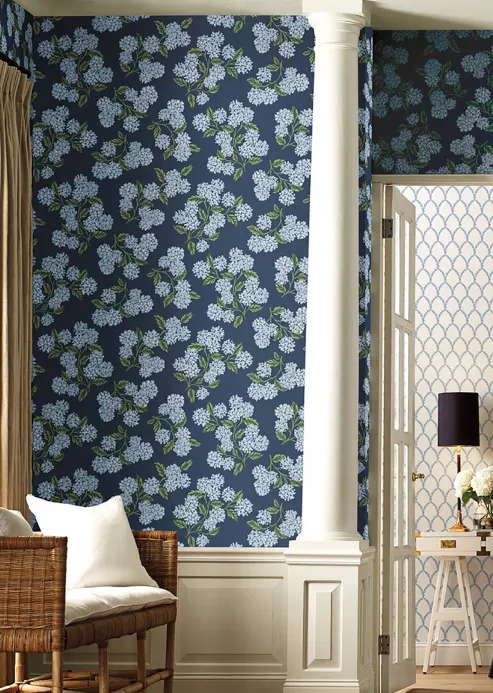 Choosing the appropriate wallpaper is only the first step. For the wallpaper to have the full visual effect and serve its purpose, you need to make sure its position, surroundings and other interior elements harmoniously coexist and complement it.
1. Pre-Decide!
There is a wide array of options to choose from when it comes to colours, shades and textures. You are truly spoilt for choice!
However, this could also be very confusing. While envisioning the design you want to achieve and pre-decide on the aesthetic and colour scheme so you can make it easier when it comes to choosing the right wallpaper that fits.
2. Focal Point
The wallpaper will be the focal point of the entire room. Choosing the right wall to accentuate is extremely crucial for tying the space together aesthetically. Make sure that you don't cover too many walls with the same pattern, as it may be too overpowering.
Making one wall the "accent wall" would distinctively highlight the wallpaper's true beauty. Another way is to feature two wallpapers throughout the living room, this would create two areas of focus that should complement each other well. Using rifle paper wall coverings can be ideal in such cases.
3. Paint Colours
It is important to choose the right paint colour which would be the right accompaniment for the wallpaper. The surrounding walls can be contrasting or blending with the colours of the wallpaper. Oriental Wallpapers or Rifle Paper wall coverings can be an ideal addition to give you an elegant and tasteful space in your homes.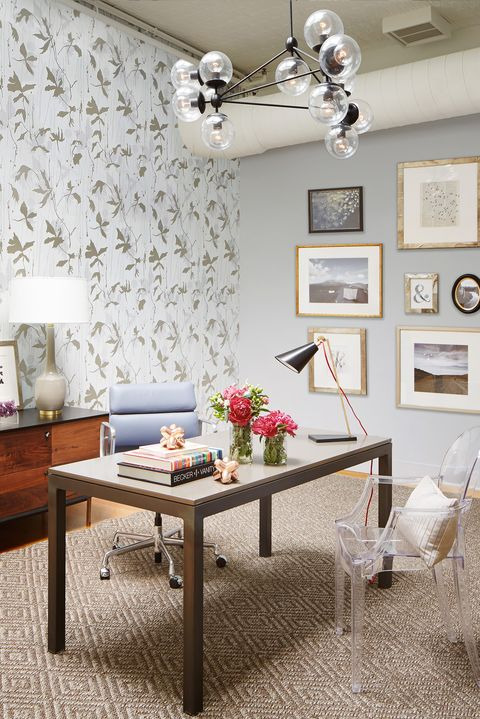 4. Furniture and Decor
Choose the right furniture and decor for the chosen wallpaper and vice-versa. The wallpaper should be a good backdrop for furniture and decor pieces.
Choosing a maximalist wallpaper with subtle furniture elements can also add a sense of thoughtful aesthetics to space.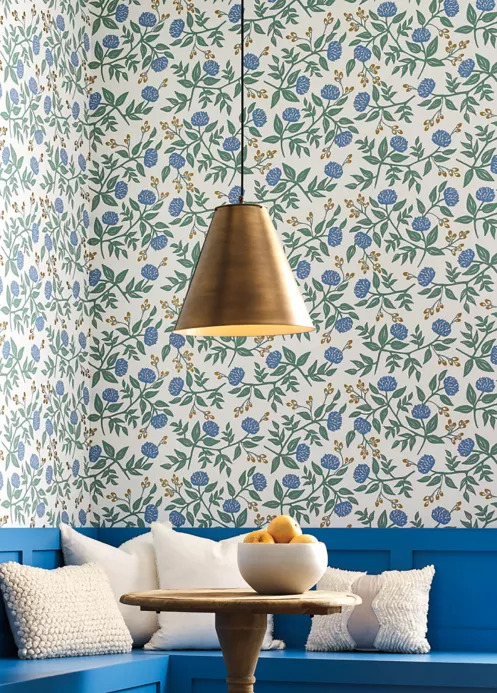 Wallpaper is a fast and cost-effective way to achieve the living room of your dreams. It is affordable as compared to facing walls with real textures and can be applied very quickly. You too can achieve a finished designer look by masterfully applying wallpapers to your home decor.
---