A typical size bathroom usually measures five by eight feet, where there can be enough space for a toilet, shower or bathtub, vanity, and sink. The area may not look big, but you can create an illusion of a spacious bathroom by being smart with your design choices. In this, various factors can contribute, including tiles, floating vanities, and others. Here are some insights into how an ordinary bathroom can transform when you add the right elements in the right places. If you have a 40 square feet bathroom, you can benefit from the points discussed below.
Different bathroom decorations to create desirable interiors
Wall with tiles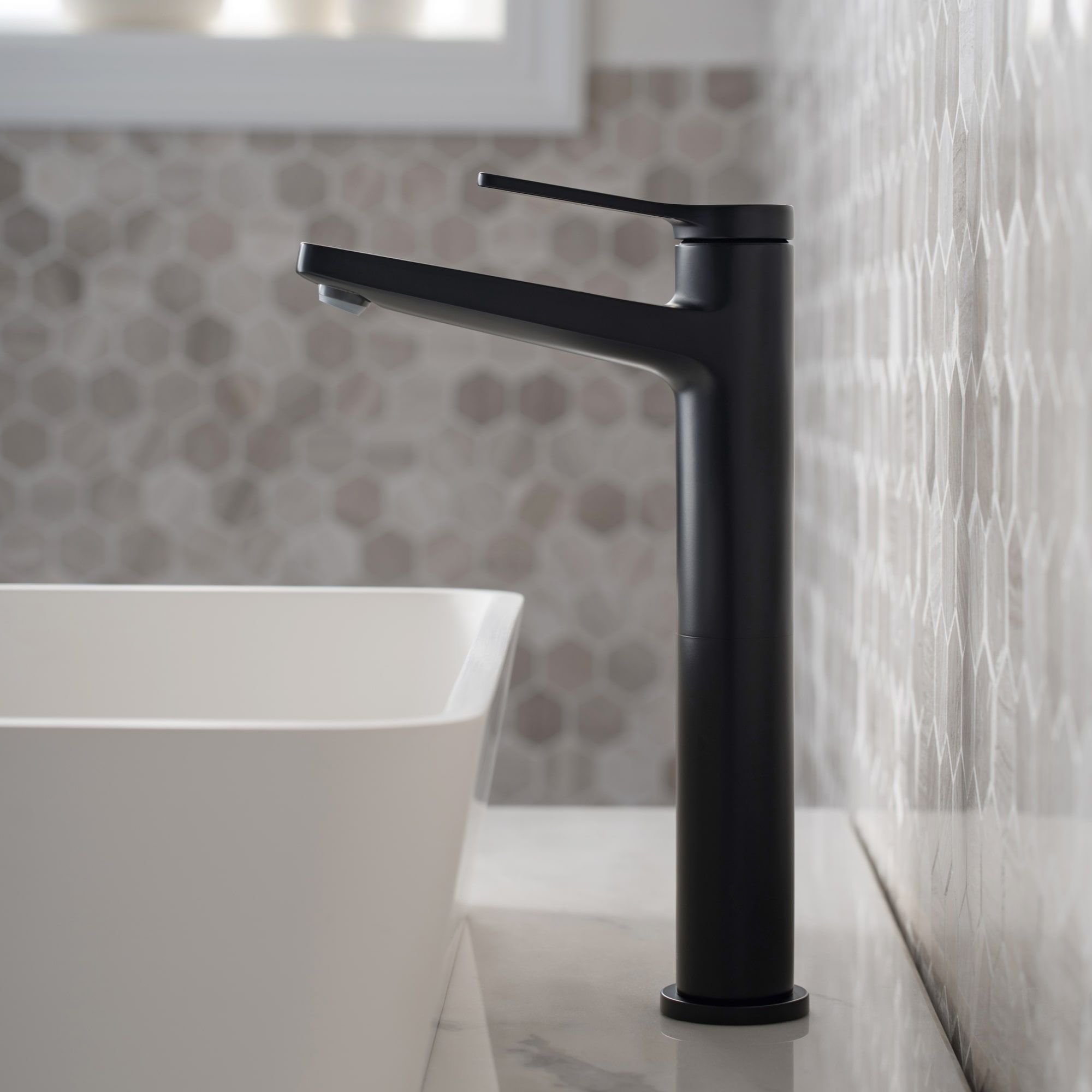 Image © Kraususa
You can visualize a modern and bright look for an old, cluttered bathroom of a standard size. The task can look impossible, but you can make it the way you desire by tapping into visual tricks. The walls covered with white tiles in square shape from top to bottom can add a touch of consistency, lending it an air of spaciousness. Flooring can be of gray marble mosaic, while steel shelves can adorn the wall for storage.
You can buy a dark coffee-colored vanity, and its countertop can be quartz material, where interior designers often use a vessel sink to complete the look. There can be a tile-based recessed shower niche to give the feeling of a larger space as you would have to look upward for it.
Experts recommend minimizing visual distractions when it comes to decorating a small bathroom. The fewer the interruptions in terms of numbers of finishes and materials, the better it is. It not only looks eye-catching but makes your place bigger also. In these designs, wall mounted vanities work better because it frees up the floor area.
An airy bathroom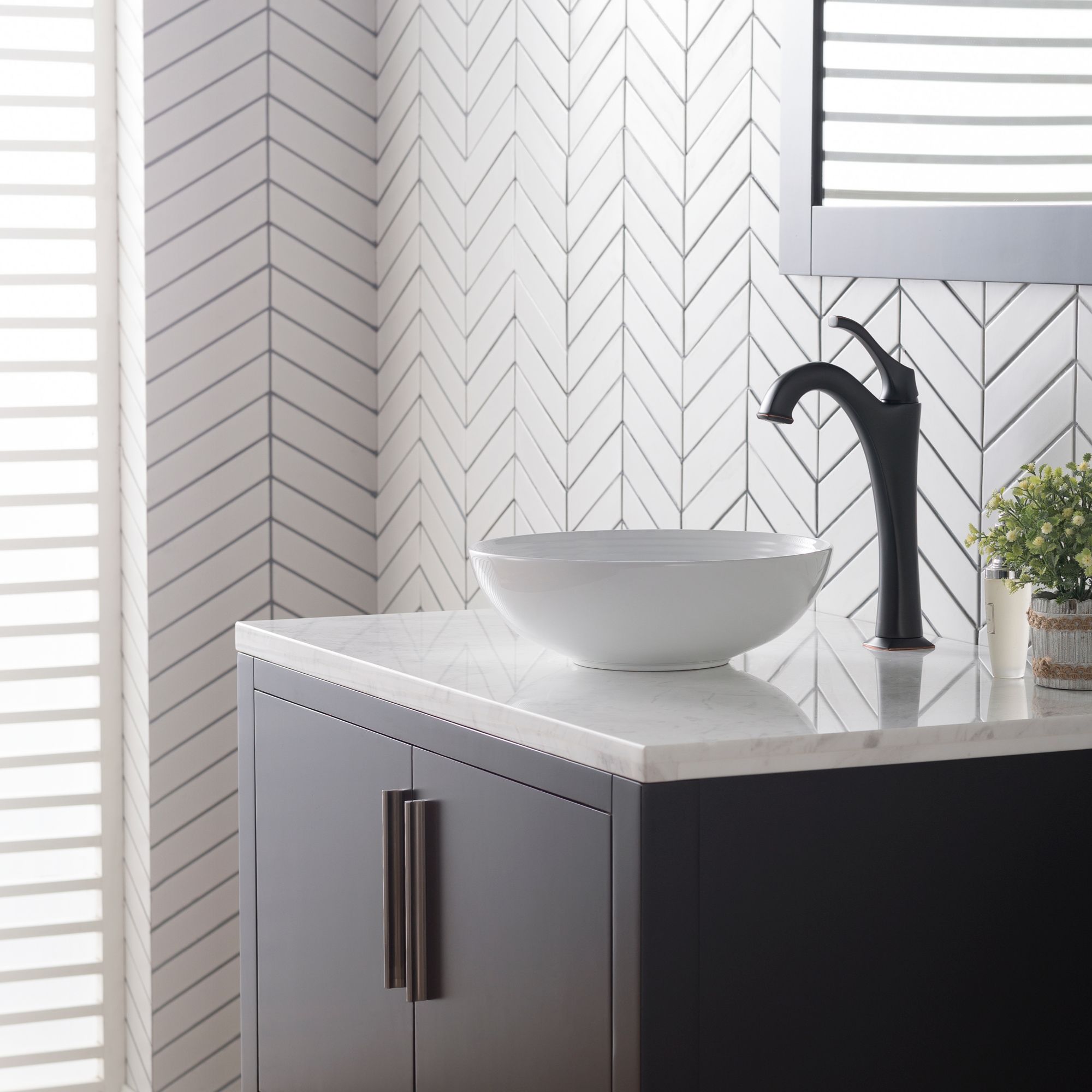 Image © Kraususa
Some bathrooms suffer from the issues of smaller space and lack of natural light. At the same time, adding storage can seem too much of a task. The choice of color and materials can further tarnish their décor. If you want to get over this and transform your bathroom into a modern space with proper light and storage, you need not worry. You can find solace in glass shower doors that don't block light. And for maximizing its impact, you can use shiny white finishes and lots of mirrors. Floating vanity and toilet can further make it look open.
As per designers, paying attention to materials would pay off as they can create a sense of simplicity when aligned well. You have to do away with any complicated features. A toilet with a hidden tank can be easy to maintain. Similarly, a vessel sink on the vanity can also draw focus to its practical shape and pattern.
A modern vintage feel
For this, you can keep your countertop and vanity in the same shade while enabling the multicolored hexagonal marble flooring to draw attention. This design will keep eyes moving, giving a sense of open space. When your vanity and countertop are the same shade, your multicolored tiles and other elements suddenly gain tremendous focus. Some homeowners opt for a contrasting countertop too. You can also follow suit to add another visual layer to your bathroom. It can be the right decision for a guest bathroom. And for lighting, sconces can be the perfect solution.
A white sleek bathroom theme

Image © Kraususa
A current and functional bathroom is easy to imagine with a modern walk-in shower instead of a tub-shower. For a strong visual impact, you can use a white tile shower with matte textures. It will instantly make your place look large. The floor can be black and white with patterns and textures. However, you need to ensure that it doesn't make your small area look busy. There can be a marble shower curb, marble vanity countertop, and a vessel sink.
Interior designers say that full-length frameless shower glass doors make your space look bigger and prevent other areas from getting wet.
Vertical interior design for kid's bathroom
Suppose your bathroom has subdued tiles, dark brown accents, and little storage space. You can be unhappy about this arrangement for its low functional and aesthetic appeal. You may want to upgrade it to add more light and functionality. If this is the case, it can be a better idea to use white subway tilesvertically to give an illusion of height to the room. Floors can incorporate graphic tiles. It can feel fancy, but it can be a magical choice for a kid's room. Vanity can be maple wood and appear elegant with a quartz countertop. The surroundings can be in blue with attractive shower curtains.
Sometimes, the budget can be a challenge. If it is so, you can maintain your existing layout. However, you can work on the vanity area with a vessel sink, mirrors, etc. This decision can add spaciousness and functionality to the bathroom fuss-free. For faucet, shelves, and shower, you can use brass hardware. But if you find it overwhelming, tone down the look by mixing and matching different metals. For example, lights and towel bars can be brass, while vessel sink faucet can be chrome. The storage shelves can wear a white tone.
When designing a private corner of your house like a bathroom, you need to keep both aesthetic and practical features in mind. Even if there is enough space to exploit, you must not waste it with decorative items. The use should stay limited to just a few to maintain a fair balance between beautiful look and functionality. Only can this give your bathroom a complete modern touch in real sense. And the reason for this is simple – modern layouts prefer minimalism and de-cluttering. Hence, keeping the necessary elements with a few additional features can be acceptable. Going ahead, you can choose and optimize the look based on your budget.
Nowadays, most of the features and fixtures can be available for an affordable price. Hence, you don't have to stretch yourself to justify your choices. Even for a small sum, you can implement useful upgrades.
Author bio- Isabella Rossellini is a freelance content writer and blogger, she writes home and interior. She loves to spend her free time with family and decorate her house.
---