Summertime is the perfect time to fire up the grill and cook up some delicious food! We've got you covered if you're looking for ways to create an amazing cooking space outdoors. In this blog post, we will discuss seven tips and tricks that will help make your outdoor cooking area stand out from the rest. Let's get started!
Why Not Build An Outdoor Kitchen
Building an outdoor kitchen is the perfect way to make your backyard come alive and create a space for entertaining. An outdoor kitchen can provide an area for you to host friends and family, and it's much more enjoyable than having to cook indoors.
Not only that, but you'll be able to take advantage of the fresh air and natural light while creating delicious meals. A DIY modern outdoor kitchen also adds value to your home and makes it a great place to relax and unwind with family and friends. With all these benefits, why not build an outdoor kitchen and make the most of your backyard space? By building an outdoor kitchen, you'll be able to host stylish and delicious meals for years to come. With creativity and planning, you can create an amazing outdoor cooking space that everyone will enjoy!
Make Sure You Have Enough Space
Creating a cooking space outdoors requires ample room. After all, you'll need enough space for your grill or smoker, as well as for preparing and serving food. You should also plan to have any necessary appliances or additional cooking gadgets nearby in your outdoor kitchen. To get the most out of your outdoor cooking area, make sure that you have enough space to accommodate everything you need.
Consider the size and shape of your outdoor cooking area and ensure that there is room for all of your equipment and supplies. It's also important to think about how much space will be needed by guests when they come over, so they don't feel crowded while you're cooking up a storm. With an adequate amount of space, you can create the perfect outdoor cooking space that's both functional and enjoyable.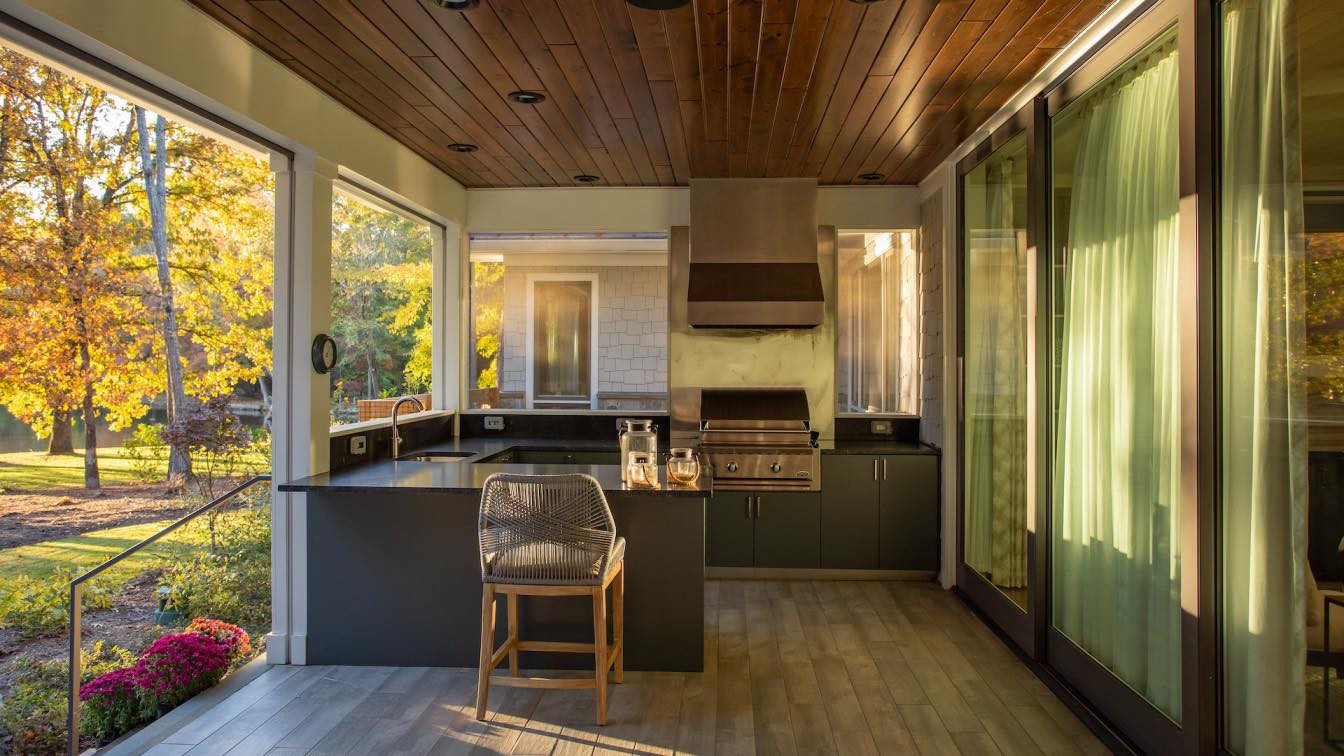 image Courtesy of Bartone Interiors
Focus On The Seating Area
When creating an amazing outdoor cooking space, it's important to focus on the seating area. After all, this is where your guests will be spending most of their time. Choose comfortable seating that fits into the design of your space, and consider adding cushions or pillows for added comfort. If possible, try to arrange the chairs around a central gathering space like a table or fire pit. This will give your outdoor cooking area the perfect place for guests to gather and enjoy each other's company.
When selecting furniture for an outdoor cooking area, be sure to choose pieces that are designed to withstand the elements. Look for materials such as teak, wicker, and aluminum that are built to withstand the sun and rain without fading or deteriorating. It's also a good idea to invest in quality covers for your furniture so that it can be protected when not in use.
Add Lighting
Lighting makes outdoor spaces look beautiful and inviting, and it can also be used to create the perfect cooking space. Consider adding low-voltage LED lighting around your cooking area for a softer, more subtle effect.
You could opt for hanging lights from trees or posts, or use string lights along fences and walls for an interesting look. Make sure any lights you use are properly weather-resistant and up to safety standards. Having the right lighting will create an inviting atmosphere while you cook, allowing you to enjoy your space even when the sun goes down.
Decorate With Plants
When it comes to decorating your outdoor cooking space, adding plants can be a great way to bring some life and color into the area. You don't need to go overboard—just pick a few potted plants that will do well in the outdoors, such as succulents or herbs. Not only will this give your outdoor space a more inviting feel, but it can also be functional by providing ingredients for your meals.
If you want to take things up a notch, try hanging some plants or potted creepers from the walls or the ceiling. This adds texture and depth to the overall design of your cooking space. Whatever type of plants you choose, make sure they're properly sheltered from the elements. A good rule of thumb is to choose varieties that are hardy and drought-resistant. With just a few plants, you'll have the perfect outdoor cooking space in no time!
Pick Materials With Care
When it comes to creating an amazing cooking space outdoors, the choice of materials you use is important. Whether you're building a permanent structure or simply want something that's easy to set up and take down for special occasions, make sure you pick durable, weatherproof materials that won't deteriorate quickly in the elements. You may even want to consider materials that are easy to clean, so your cooking area looks great all the time. Investing in quality materials now will ensure that you have an amazing outdoor cooking space for years to come. Choose wisely and enjoy the results!
Play Around With Textures And Details
Adding texture and details to your outdoor cooking area is a great way to create an inviting atmosphere. Consider adding plants, stones, and other natural elements that will bring visual interest to the space. You should also pay attention to furniture textures, like wood or metal, for a more rustic look.
If you're interested in creating a modern outdoor space, consider adding colorful accessories and cushions to your outdoor furniture. Mixing different textures can make the area feel more balanced and look more finished. Additionally, don't forget to add lighting so that the space looks inviting even when the sun goes down! Lighting helps create a warm atmosphere and gives your cooking area a cozy feel.
In conclusion, creating an amazing cooking space outdoors doesn't have to be a daunting task. With the right planning and design, you can create the perfect outdoor space for entertaining. Just be sure to pick quality materials that are designed to withstand the elements, add some light and texture to your area with plants and details, and enjoy the results! With these 7 tips and tricks, you'll be able to create the perfect outdoor cooking space in no time. Enjoy!

---