In today's world, everyday life can seem to be taken hostage by over extravagance, complexities, and clutter. So much so, that when you finally make it back to your house at the end of the day, you're left longing for a return to something much more simple and minimal even.
A quiet and safe refuge from the world which can only exist in a home. A home that achieves a balance between the luxuries of modernity and the comfort of tradition. And it is safe to say that such a balance can be achieved by creating for yourself the perfect modern farmhouse, room by room.
Build A Coffee Table
A coffee table is a simple yet very effective way to bring the modern farmhouse style into your home. When renovating, it is important to focus on style, however, it is equally as important that this is done without sacrificing practicality. Fortunately, for you, the modern farmhouse emphasizes practicality while also providing character.
Some of the signature characteristics of the modern farmhouse style are its focus on rustic and simple design. Often utilizing very neutral colors and earth tones, a rustic coffee table might have a "repurposed" or "refurbished" look to it. The look is not only eye-catching but gives a down-to-earth sense of being that will help in your goal of achieving comfort.
Design a Book Nook
At the end of the day is there any safer place than a comfortable chair, a dress of blankets, and a cup of coffee with some of your favorite reading material? Hardly.
If quiet refuge is a must-have for you in the home then the task of creating a charming and peaceful book nook might be your next project in transforming your space. Again, the focus here is to utilize the very best in natural and simple styles. Meaning large, earthy, and wood-based furniture with a vintage or weathered look would be best in achieving that classic homestyle feel you're after.
This will include items such as a comfortable lounging chair, handsome quilted throw blankets, and a small addition of lighting that will illuminate the area with soft and warm color. Lastly, and most importantly in the conception of a book nook is the books. Focus on a shelving unit that draws the eye in with its wilted and aged nature. The modern farmhouse style is not one to shy away from a dated, paint-chipped, look.
Add an Electric Fireplace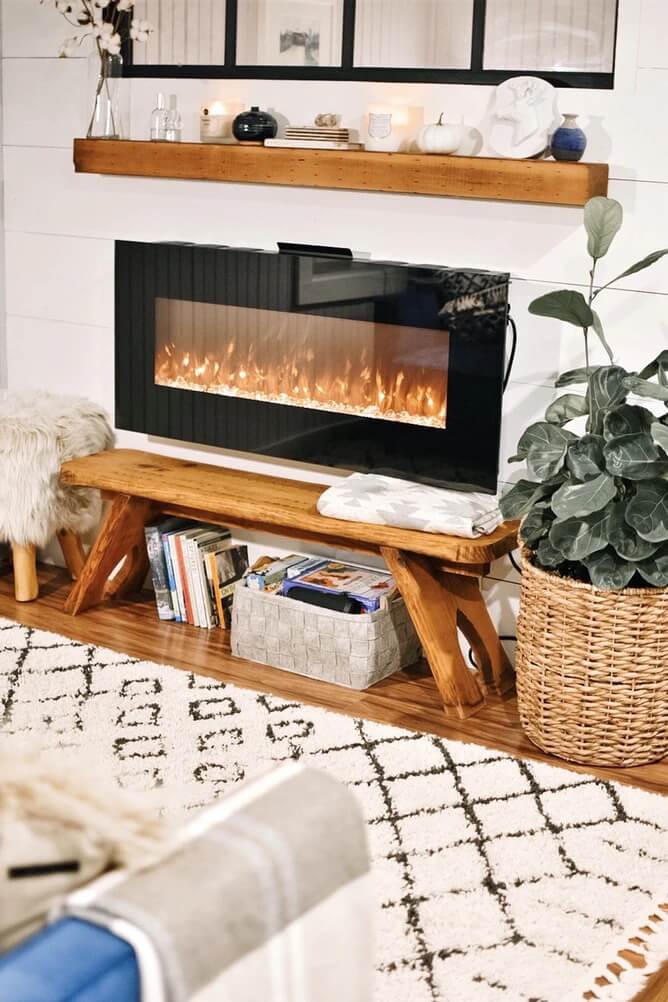 image © Andrea Davis
One of the greatest focuses and values of the modern farmhouse style is its emphasis on sustainability in the modern world. Not only is this a poignant and refreshing statement to make with your home, but it is also one that will benefit your home in the long run. Consider making this statement with an electric fireplace.
Now you might ask yourself if comfort is truly the goal, would it not be best then to simply add a traditional fireplace or wood stove? While there is weight to the question, it is necessary to remind yourself that the same comfort can and will be achieved with this simple addition.
With its ease of installation, access, and power source, the electric fireplace offers heat at the flip of a switch without forcing homeowners (or renters) to fork over bundles of cash to a contractor.
Mostly modern electric fireplaces have functions that offer the user a high level of control over the heat output, a task that is a bit more difficult to achieve with a traditional wood-burning fireplace. An electric fireplace is able to offer this control without the need for an external fuel source, meaning coal and chopping wood will never be a concern.
However, while the electric aspect nixes the need for fuel it does not sacrifice the warm glow and ambiance that is offered by the more traditional fireplace. With soft LEDs and faux log scenery that replicate, almost exactly, the light and look of a nicely finished fireplace, your family can still enjoy chilly mornings and quiet nights cozying up by the gentle "blaze."
Add a Mantel
Do you want to make that newly added electric fireplace really stand out? Consider installing a beautiful mantelpiece to go along with it. As mentioned before, one of the best qualities of the modern farmhouse is the ability to give new life to the old. With the use of reclaimed wood material, constructing the perfect mantel for your perfect modern farmhouse can become a practice in sustainability and style.
The addition of a one-of-a-kind reclaimed wood mantel will serve as a conversation piece for the room and give you a lot more versatility in your ability to decorate and showcase other aspects of the home. What fireplace could be truly complete without the addition of a solid repurposed wood frame that makes room for precious family pictures, antiques, and the annual Christmas stockings!
Add Trim and Window Casings
It is often said that the addition of framed art and photos is the only way to ensure that your home's walls are not left looking bare. Whoever said this has never thought to frame their windows in the modern farmhouse style.
By adding a rustic trim using reclaimed wood materials you are framing a view and drawing the beauty of the outside world into your home. In the signature modern style, this trim relies heavily on straight cuts and bright white paint.
You will be amazed at the vast difference you can create by completing this simple project. Simply removing the former trim and replacing it with bold sharp lines offers a lovely and timeless transformation in any room.
Add a Sliding Door
The sliding barn door is an anchor of any modern farmhouse or coastal-style home. Being such a unique addition, the door offers loads of character as well as providing a wealth of utility. By adding this sleek yet traditional design it opens up your home to a greater amount of usable floor space. Sitting flush against the wall, the sliding barn door can open up the bedroom, living room, or even a tight and narrow hallway.
While the idea of installing a metal track and two massive slabs of wood where your former panel doors may have been may seem to be a daunting task for most. But you will find that there is an incredible amount of resources that offer simple and detailed instructions to guide you on your path.
Happiness is in the Simple Things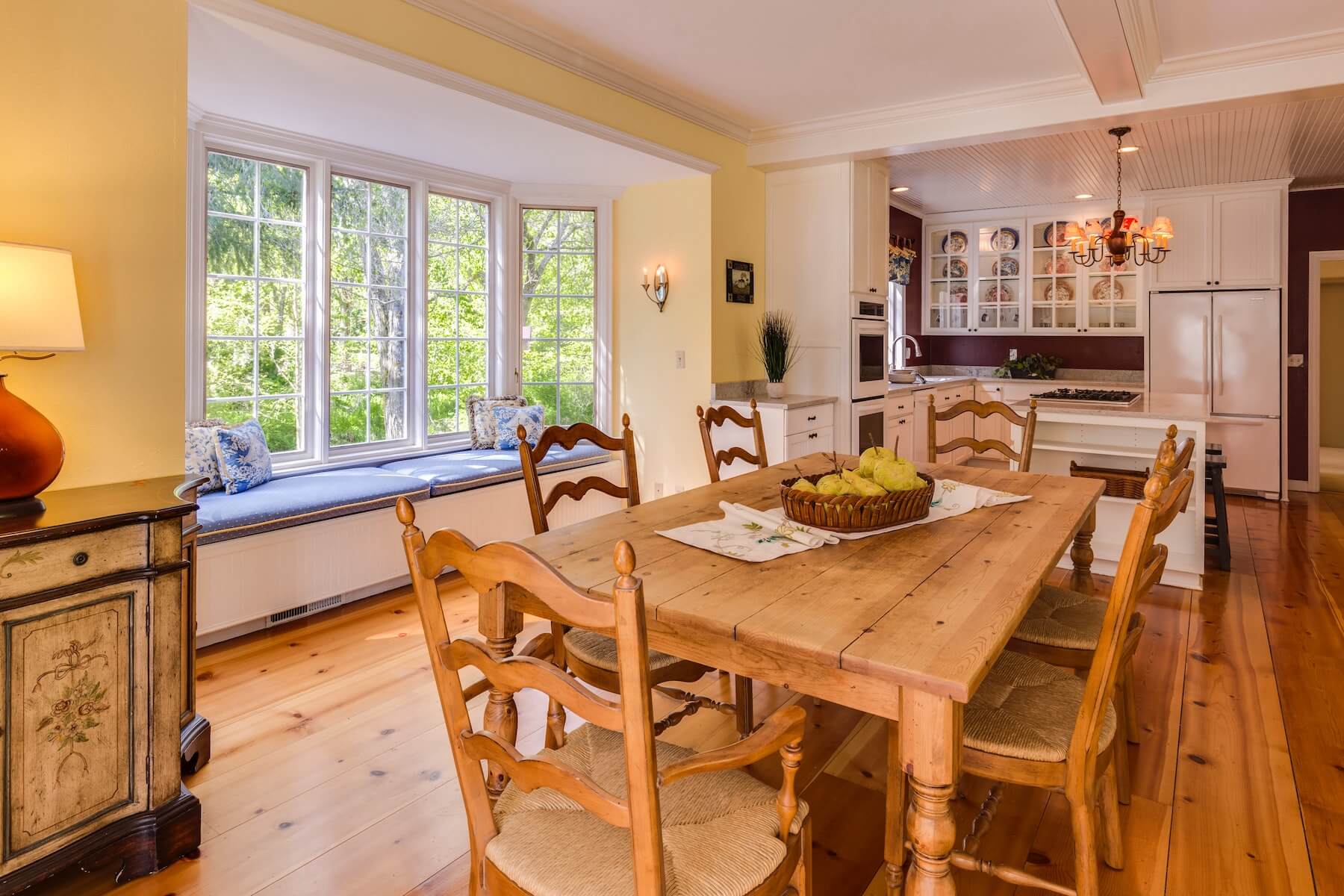 image © Francesca Tosolini
The modern farmhouse style may not be for everyone, but for those who cherish antiquity and simplicity while also enjoying contemporary styles, you may want to consider transforming your home into the timeless wonder and style of the modern farmhouse.
Not only is it a look that is easy to achieve, but there is no shortage of the amount of comfort and feelings of nostalgia that it will provide. Leaving friends and family alike to fawn over the beauty of your own design.
About writer:
Gabe Nelson is a content specialist of over 7 years of experience, currently working with magikflame.com. Just out of high school he set off crab fishing on the Bering sea in Alaska. From there he went back home to finish his college degree at the University of Montana He has written hundreds of content pieces in numerous niches. Currently, he lives in Missouri with his wife and kids.

---