Who doesn't like to enter a bedroom that seems so welcoming? Notwithstanding everyone's choice of design, we need a bedroom that can serve as a cozy place of retreat. Perhaps, it is time to a makeover that bedroom of yours, already. Even if you seem not to figure how to start or what to do, get ready to be inspired, the ideas below will help you.
. Gallery Walls
Hardly can anyone can ever go wrong with an articulate gallery wall. A gallery wall can be catchy in a bedroom set. You can make a collection of the things you love, ranging from artworks to favorite sayings, to crafted prints, to photographs, to vintage maps, to postcards from vacations and places, or even mementos, for your gallery wall. Creating this is a simple way of bringing elegance, warmth, and personality to your bedroom, giving your room a new decorated feeling.
What is a cozy bedroom without comfortable beddings? Beddings are the focal points of your bedroom- perhaps; this is mainly what differentiates it from other rooms. This is much more than just buying any mattress.
When you buy a distinctive high-grade bed, it provides the needed cooling comfort you seek and adequate help for optimal rest. Other bedding materials like pillows, linen covers, duvets have the power to improve how we feel. Reports have shown that we spend one-third of our lives sleeping, thus, excellent bedding is worth the luxurious treat–you need to treat it like a serious investment.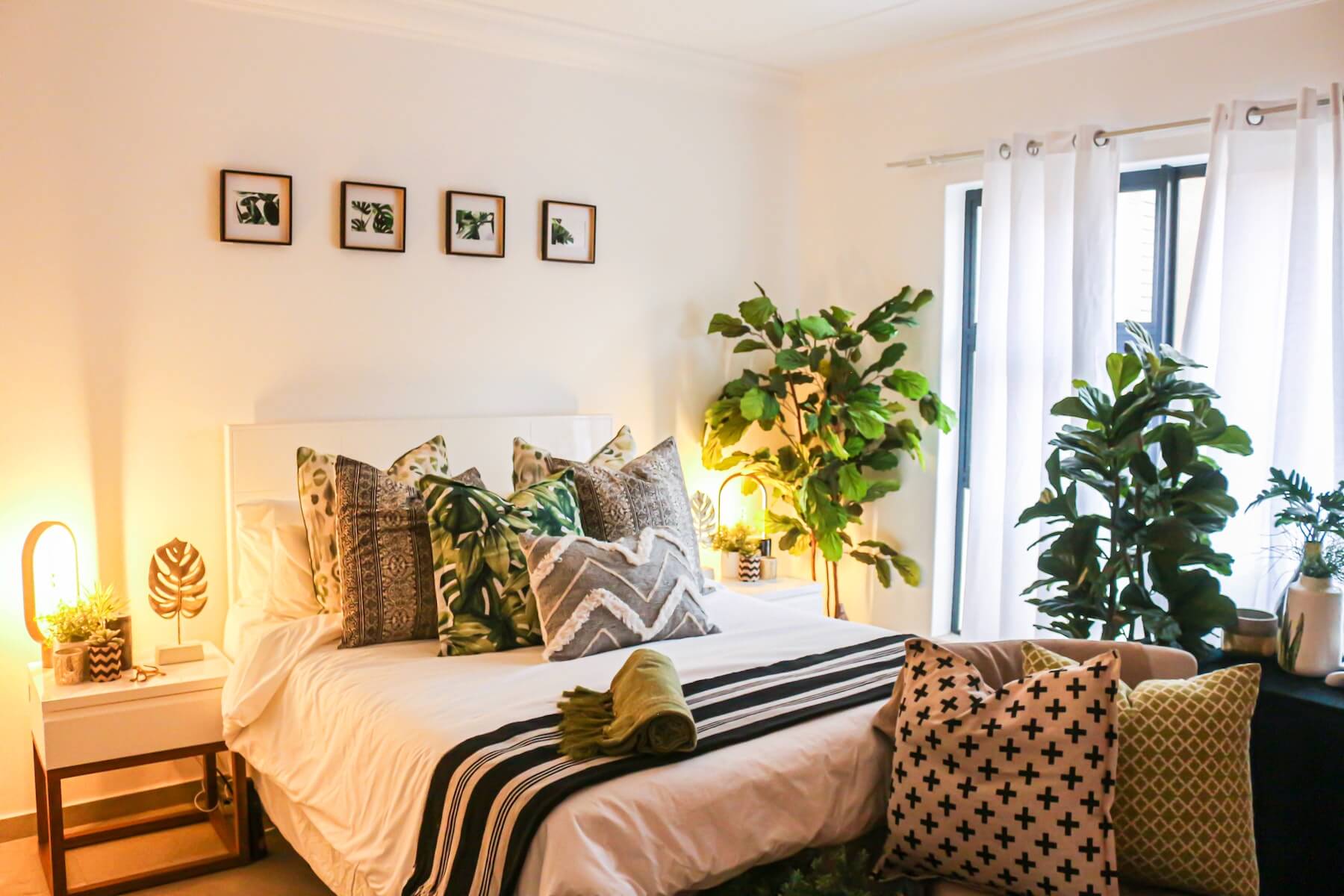 image © Devon Janse van Rensburg
. Rearrange your Bedroom Furniture
Furniture rearrangement can give your bedroom a new feeling and accommodate the ambiance you want it to give off. Reorganizing your furniture can make you feel rejuvenated too. Even if you are fixed on a standard look, a simple rearrangement can do a lot of good, such as improving your mood and enhancing your sleep cycle. It will also help you declutter your room and tidy up your space.
. Creative and Artful Lightening
You can revamp your bedroom by incorporating lightening elements into the mix. There are lots of lighting concepts, and crafts you can choose from or add together, for creative and artful lighting effects, most of which you can do yourself. Cloud lights, jar lights, firefly lanterns, fireflies strings, wreath wall lights, fox lamps, light garlands, pendant lamps, glittering landscape, wine bottle lights, and cloth chandeliers are some creative and inspirational examples. Apart from giving your room a new feel, it is a fun project to embark upon.
. Repaint your Bedroom
Imagine the change in atmosphere and colors that a repaint could bring! Whether you love plain natural colors or you are the classic time, there are colors readily available to serve your needs. You can even combine colors to get your desired effects. It is not only bedroom walls that can be repainted- dressers, cabinets, wardrobe, and other pieces of furniture can also enjoy the painting makeover effects and be turned into dazzling works of art.
. Create a Reading Corner
We have pointed reading out to be an excellent pre-sleep activity and an excellent activity for pleasant relaxation too. Having a reading corner in your bedroom doesn't have to be hard to create. A simple addition of a comfy chair, a standing lamp, a small bookshelf, and few books in place, is a good way to go.
. Add some Nature Feel
Doesn't it seem exciting to add a natural feeling into your sleep space? Nature has the potential of adding colors and freshness that will aid the transformation of your bedroom. From a few simple room plants to natural woven flooring, to nature-inspired crafts, to timber artworks that reveal the fineness of craftsmanship to placing crystals near your bed, you can enjoy your bedroom with natural elements.
On one hand, there is a pleasurable and rewarding feeling that comes from watching nature in your bedroom. Also, bringing nature in, such as plants, can help in enhancing the room's air quality. Indeed, natural elements can make our sleep space feel peaceful-including giving off the right calming effects.
Your bedroom can be likened to a sanctuary, thus, it should have a makeover from time to time. The amazing thing is that you don't have to work on an expensive budget before you can achieve your makeover goals. You can do some of these remodeling ideas yourself, without even spending a dime. What more is stopping you from starting that bedroom makeover?


---