As you are constantly updating your clothing collections and "updating" your styling, you should occasionally apply the same principle to the interior of your home. The trend is equally present in all areas: fashion, technology, food, and other changing phenomena. Make sure the look of your house is just as appealing as yours.
This doesn't mean significant financial investments, such as changing furniture parts (it is not excluded that you might change them in a few years), but small things that do not require a significant investment of money but will give your home a more refreshing look. We have selected a couple of suggestions for things you could renew. Take a look at the six tips and consider what will be best suited for your home.
Greenery
If you like to grow ornamental plants in the yard, on the terrace, or in the living room, Zamioculcas might be the perfect choice for you to give the whole house a greener and fresher appeal. Zamioculcas is a very popular and interesting potted plant that should be a supplement to your greenery. It has beautifully shaped leaves that are an ideal decorative detail, and in addition, the plant in your home will literally refresh the space and purify the air. Generally, any plant will do the trick, as they are an amazing decorative detail for any space, no matter if it is the living room, bathroom, or kitchen. These potted plants are perfect for all the small and free space on your coffee table, terrace, or windows. We suggest bigger plants for the living room to create a more "jungle" look, which will make it look fresh and unique at the same time.
Pieces of art
Nothing gives your home a more unique and artistic look than hanging pieces of art all around the house. There is no rule on whether something is "too much" or not when it comes to this decor detail. Numerous celebrities and famous people are known for their obsession with art and unique pieces, and some even go as far as decorating the whole house with art pieces. Art is generally valuable on its own as it is an expression of someone's thoughts and ideas, and the connotation it leaves depends on the one looking at it. You can find unique pieces of abstract art as seen on AllTheDecor as well as statues, jewelry, kitchen decor, and other accessories that will freshen up your whole home. Don't just leave your walls blank and each of your rooms completely empty. Make sure every little corner of the house has something that makes it look outstanding and unique. Statues, especially, are a great addition to your coffee table or shelves, and you can also find a lot of vintage stuff at your local flea market. Vintage and retro paintings, sculptures, and other things are pieces of history, filling the room with uniqueness and an expression of your individualism.
Mirrors
The mania with mirrors is widely present, and this is because they give the impression of spaciousness with their reflections. So, no matter the size of the room, the mirror will visually expand it. The bathroom, bedroom, or hallway are no longer the only rooms with mirrors; now it can be the living room or any other. In addition, the mirror over the entire wall is a modern detail, and with this simple change, you will improve the look of the interior drastically.
Wallpapers
Wallpapers are often a forgotten and overlooked decor detail that can be an outstanding addition to your whole home. The designs and the many patterns make them unique and astonishing in every manner. They have long been the de facto decor detail in most homes, until a few decades ago, when the traditional wallpapers were replaced by simple paint. Though a nice paint job would also do the trick, classical and high wallpapers are the ways to go if you plan on giving your whole house a completely new look.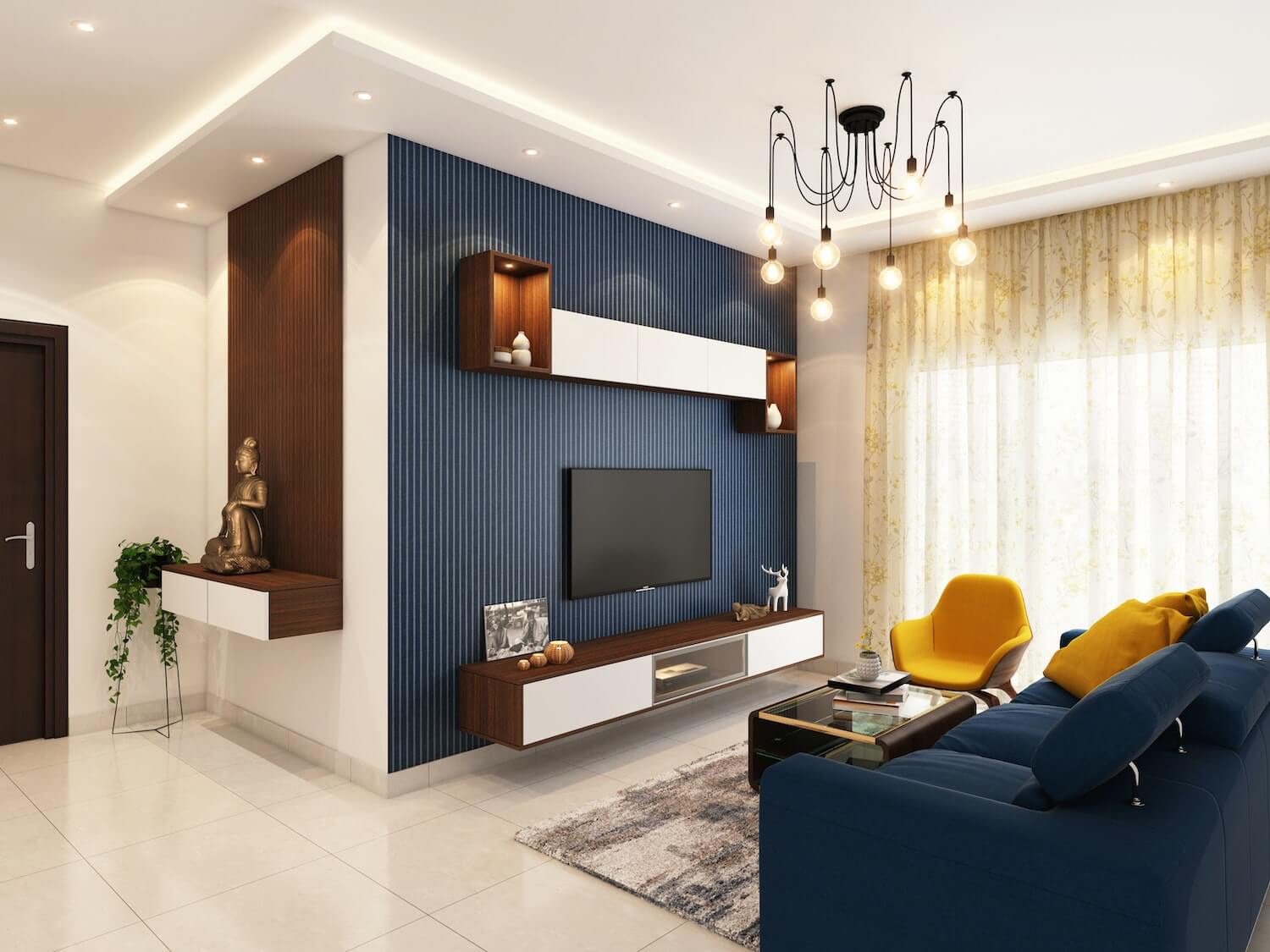 image © Houzlook
Curtains and rearranging the furniture
Another interesting idea is to get curtains. Although your blinds provide you with much-needed protection from the sun, curtains are a stylish addition to the current look of your house. We recommend different patterns, shapes, and colors depending on the room. You can also go for one-colored curtains, thereby making a contrast with the color of the house's walls. You can also rearrange the furniture and change the placement, making it look more spacious than usual and creating more room for additional pieces like a rocking chair or maybe an armchair.
Ditch the carpets
It seems counter-intuitive, however, sometimes less is more, and therefore ditching the old carpets might be just the needed trick to make your house look fresh and new. If you happen to have beautiful wooden floors with astonishing patterns, the right thing to do might be to let these floors speak for themselves and give them a chance to shine and be seen. Ditch your carpets and instead coat the floors, thereby creating a unique and more rustic look.
We hope you'll find these tips more than useful, as they are simple and most are quite inexpensive, proving how it all comes down to having a taste, not only money.


---