The joys of having a new home are countless, besides the fact that it is probably one of the greatest investments you make during life. So, it makes perfect sense that you will want your new home to be perfect. One of the most important things to bear in mind when decorating your home is that not all the things should be super expensive, brand new, and polished. On the contrary, layering different designs, playing with colors, and doing a couple of on-the-budget projects can make your new space a beautiful place to be. Inspired by the concept of new home decorations, we have prepared a shortlist of the ideas you need to implement.
Double Kitchen Islands
Let us start from the top and probably from the most used place in the entire house. Your kitchen is the place where you prepare food, serve it, have meals, and grab a cup of coffee for a nice afternoon relaxation session. Improving your kitchen in a way that is both functional and spacious can help you elevate the entire kitchen experience. There are a couple of things you can do that mostly deal with trends, like getting yourself a nice and spacious double kitchen island that will help you make the best use of your space. Double kitchen islands are super convenient, and by reading information from julieevansdesign.com.au, you can see that they can provide additional storage and seating space. By putting double islands in your kitchen, you will keep the preparing and serving areas separated from the storage and seating areas.
Indoor Garden
Yet another creative way to enrich your personal space and add a bit of color. There are numerous benefits to having different plants in your indoor space. Indoor plants not only improve air quality and make your whereabouts healthier, but they also, at the same time, have the leverage to do an aesthetic makeover. Some of the modern trends suggest that vertically positioned plants have the greatest impact on the aesthetics of the space. So, putting a couple of vases with hanging plants on the shelves or putting them in the plant holders can visually transform your place and give it a new identity.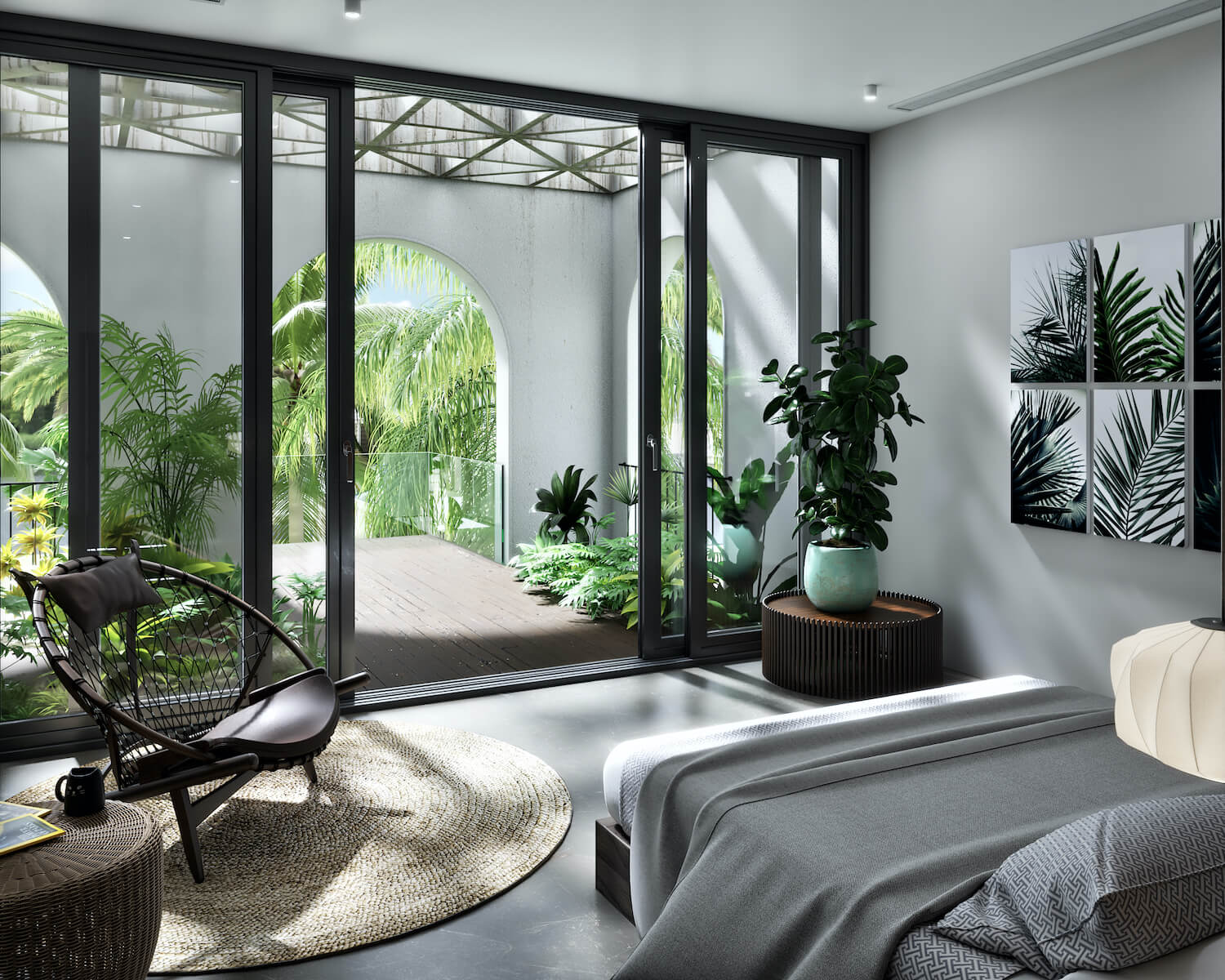 AD8 Tropical Master Bedroom, Vietnam by Rasaad Studio
Black and White Color Palette
Not only are these two the most neutral colors that will match the rest of your interior perfectly, but these two colors can help you easily achieve elegant and sophisticated vibes. If your intention is to make your home more contemporary looking, then this color palette will match the vibe. Black and white contrast is among the most popular ones, so furniture and decorations painted in these colors are ideal if you are a fan of sleek and sharp lines. In addition, you can give the space more character by adding metal vases and decorations in vivid colors such as yellow, orange, or deep green.
Iconic Light Fixture
Striking light fixtures with effective design and sharp lines will contribute to the contemporary flair of your living space. Also, if you are a fan of minimalistic space and blank, neutral walls, having an iconic light fixture will help you escape the impression of a dull space. So, combining a couple of simple elements such as metal accessories, oversized art, and extraordinary light fixtures altogether with neutral walls will make your contemporary style pop.
Stone and Metal Accents
A combination of materials and textures, if done properly, can make your home look out of this world. According to some of the latest interior design tendencies, a combination of natural materials such as stone and wood, together with glass and metal accents, will make your space stand out. Normally, stone and metal accents are softened with textured fabrics such as pillows or patterned cushions. For instance, a stone fireplace with a metal rim will perfectly complement a sofa full of vivid pillows and a nice, cozy blanket.
Artwork
Depending on your personal style and artistic preferences, you should give thought to the implementation of a nice and big piece of art that will match the atmosphere and entire image. In reference to this, if you prefer contemporary style, geometric art is the right pick for you. Showcase a large piece of art framed in matte or metal frames. All of these elements will satisfy your modern appetites and will make your place stand out.
Decorating your personal space does not only reflect your personal taste and tendencies but your character as well. Making a couple of smart-designed interior picks will help your place make quite a statement.

---