Everyone's living room should be a place where you can totally unwind & relax after a long day. Not everyone's space, however, is set up for relaxation - perhaps you need a revamp, or you're in a bit of a home style rut... Whatever you need, let us talk you through 5 ways to bring a sense of relaxation, well being and general cosiness into your living room.
A comfortable sofa
This might seem obvious - but believe us, the living room begins and ends with a good sofa. If you spend money on one thing, make it this. Get one that uses the maximum space you have available, and don't compromise on quality! You want it to stand the test of time, as well as being a comfortable place to relax. If you buy a really cheap one, the middle will start to sag, or the covers will become threadbare - not ideal for relaxation. What's more, we recommend against sofa beds unless you really need one - generally, they tend to compromise on the actual sofa function and can become very uncomfortable over the years.

Choose a sofa with deep, squishy cushions and good back support. Memory foam is supremely comfortable, and we love natural fabrics like cotton or linen for maximum cosiness. Add some good feather pillows, a quality blanket, and there you have it - the perfect space for curling up with a good book and a glass of wine.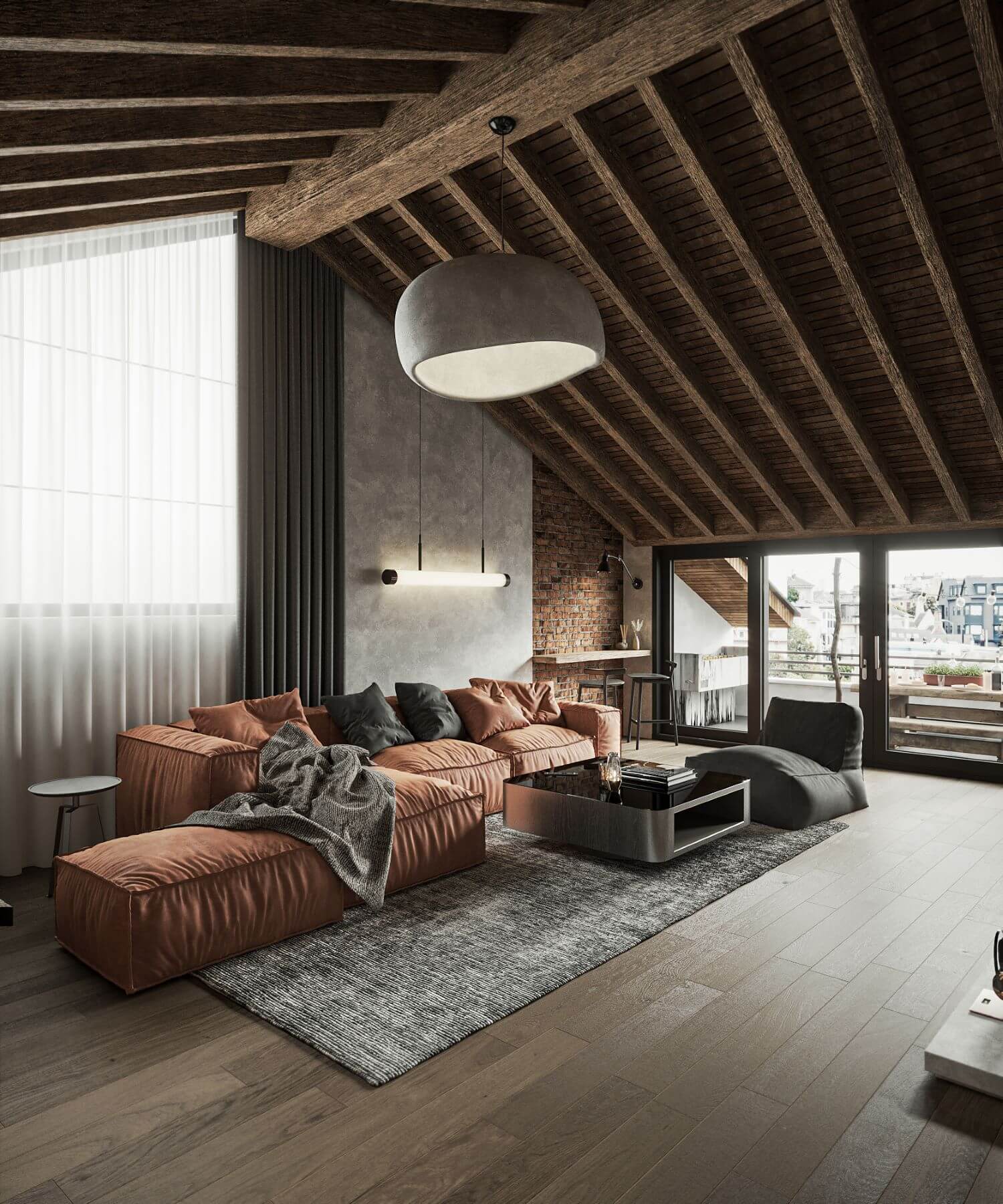 Living Room Design by NeY' Smart / Ney Architects
Bring nature in
If you truly want a living room that's an oasis - you need to add some greenery. Flowers in vases make any room feel 'finished', but the living room often gets neglected. Add a small vase of wildflowers to your coffee table, or on your shelving, and the effect of harmony will be instant! We always advocate for living plants too, for air quality as well as aesthetics. Add them wherever you can, just remember to make sure you choose wisely: consider light, and how labour intensive the plant is. A bunch of dead plants don't make for a good atmosphere!
And which flowers to choose? Alongside the ever-popular monstera, for example, snake plants, ferns, and peace lillies look lovely. Orchids are great too and could last long indoors as long you follow proper orchid care! Last tip: always place houseplants in pots with good drainage.
Consider ditching the TV
OK hear us out - we love the TV too, but a big screen in the middle of the room can disrupt the relaxing atmosphere. Do you find you put shows on just for the sake of it and don't even watch them? Having the TV on all the time in the background, is proven to be really disruptive to your wellbeing, as is always watching it too soon before you go to sleep. Remove the TV, remove the temptation!
However - we know totally removing the TV is probably not an option. So what to do? Try hiding it, putting it in a corner, or just generally not making it the focal point of your living room. You could even invest in a projector - perfect for movie nights & the fact it has to be dark whilst you watch means you won't be tempted to have it on constantly, making the occasion more special.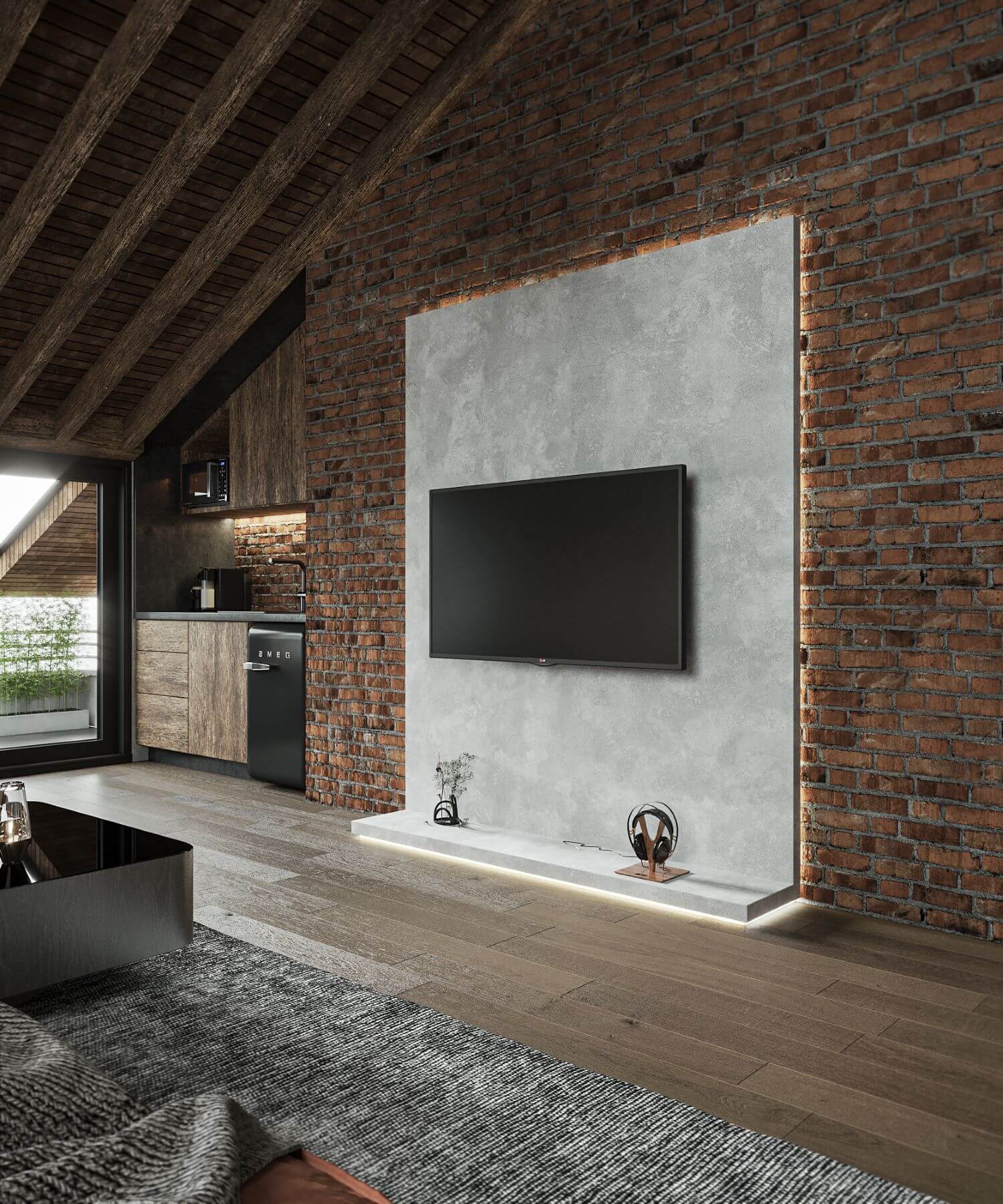 Living Room Design by NeY' Smart / Ney Architects
Think textiles
You can't be cosy without a good blanket (or three!) And not just blankets - you need cushions, rugs and curtains too. Get some good, thick curtains that go all the way to the floor. We love velvet for a really luxe feel! We love a good pouffe too, in a knitted finish. It makes a great alternative to a coffee table if you add a small tray on top.
Lighting matters
The right lighting will create the perfect atmosphere. Stay away from harsh white lighting, and anything overhead. Lamps are the only way to go here! Place one large one behind your sofa, and one near any corner you might have assigned for reading.
We also love fairy lights - great for not only the festive season, but all year round too! String some above the sofa or on some wall shelving and it will instantly add a sense of cosiness.
Last but not least, don't forget candles. More is really more here - place a few tea lights or taper candles on the coffee table, and fill large vases with pillar candles and place them on the floor to make statement accessories. If you like scented candles, only light one - too many conflicting scents isn't conducive to relaxation.
---