Bedroom is that part of our home that can be considered as the most personal and intimate. It is the place where we rest and feel the most comfortable. We usually don't let any and every outsider to step into our bedrooms because it is the place where we show our vulnerable selves to the ones who are of highest priority.
The size and location of your master bedroom does not matter as long as it has few beautiful décor upgrades to enhance your homely experience. People often want to add smart furniture, blissful color tones, beautiful window panes and curtains and other classy furnishings to make their bedrooms more welcoming, like the rest of their sweet abode.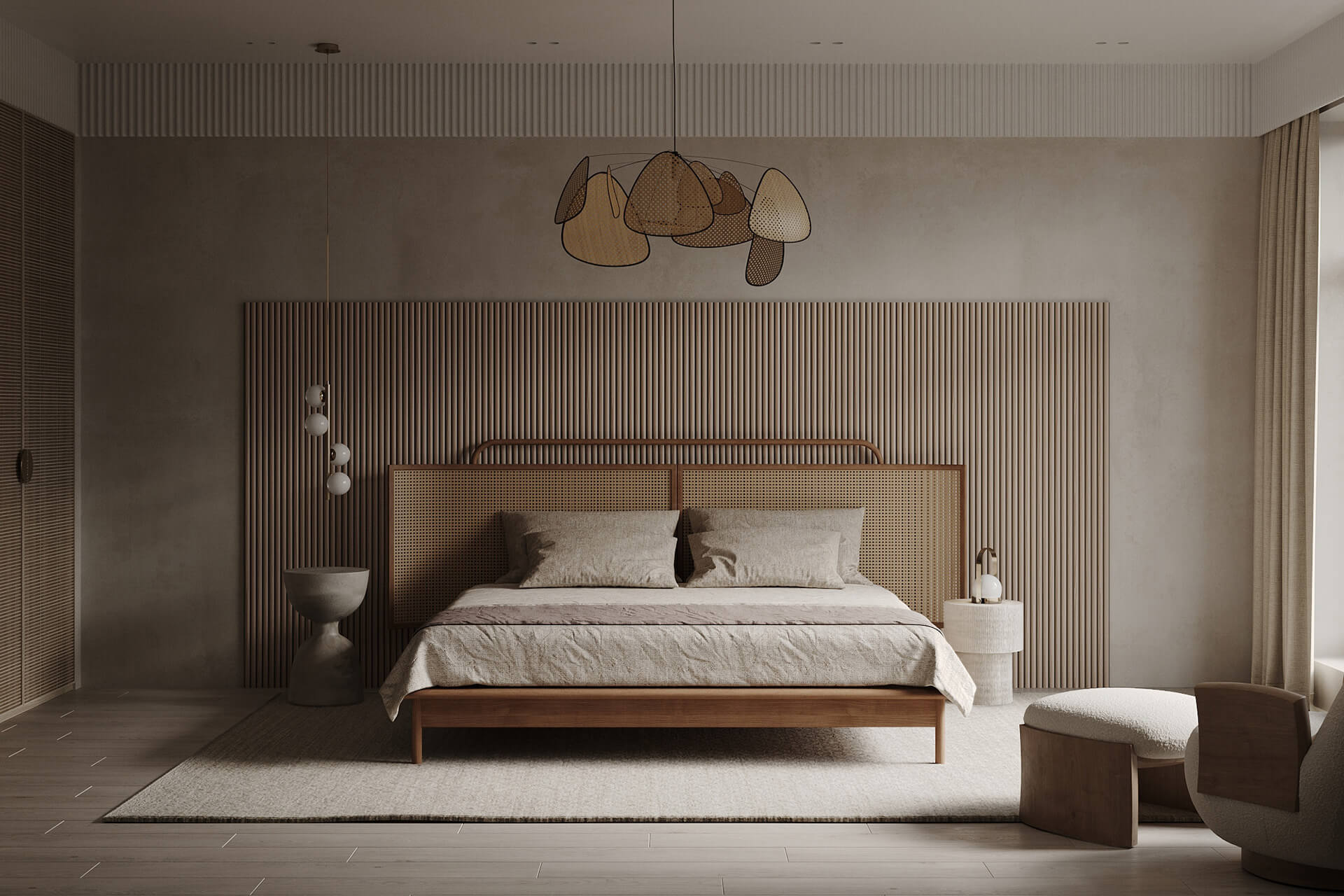 Render by Sver Studio
But expensive and beautiful things often come at hefty prices and losing them is a nightmare for every person. Hence, in this scenario, usually the safety net of an insurance for homeowners is able to provide coverage for unprecedented events. Not to mention in the case of personal belongings, people also attach feelings with the stuff they buy. Therefore, the burden of losing them is financial, and emotional too.
In most cases, people choose to renovate a house when they are moving into a new house since it marks a beginning of a new life, and if you are also relocating, the average cost to move a 3-bedroom house can range anywhere from $1,500 to $8,000, which again is a big amount for any household to accommodate. And if you are someone who is looking to renovate their home, they might as well choose the best of everything for their house. But with the best quality, comes the high price tag.
Moving on from the safety concerns, let's get back to our man theme and have a look at a few chic ideas for your bedroom décor that will be well within a pocket friendly budget:
1. The Blue Hue – Shades of blue and grey are always go-to if you are a low-key person who likes to keep things very personal and intimate. It gives a good contrast to your room against white bedding and wooden floors.
2. A wooden nightstand – Wooden furniture always adds a grand face value to the room. Nightstand also gives a nice vanity area. The nightstand will look even better with a console table, a table lamp and some sort of wall hanging with a wooden frame.
3. A chair – An accent chair will always look good in front of the console table. It also works as an extra table when you feel like reading in front of your night lamp.
4. Headboards are always in style – A floral or abstract headboard will always enhance the look of your bedroom on a holistic level. It is not only classy, but also trendsetting. If you have a mellow tone on the walls, you can go for a bright headboard with a vibrant hue of yellow. It will also add balance to the color-scheme.
5. Slim furniture – It is advisable to keep furniture comparatively thinner than those in the living room to make the bedroom seem a lot spacious. Ikea design on thin nightstands always stands out. Furthermore, petite furniture also saves a lot of space.
6. Go wooden – Wooden floors and panels will always add a royal and mature look to your bedroom.
7. Dual toned walls – Why settle for one when you can always have two? Dual toned walls mean two different contrasting or supporting hues on a wall. Imagine you have a tone of grey on the wall right above your head, paired with a darker shade of blue or a simple white on the ceiling.
8. Match the frames – Although black frames look good on every piece of art or wall hanging that you have on the bedroom walls, you can choose to keep frames with colors that match with your wall.
9. Curtains play a huge role – The curtains in your room will play a very important role in bringing about a good theme to your bedroom. You should have at least two sets of curtains. They should be of different colors. It is always good to get curtains that are of the same shade of the walls. However, you can experiment with contrasting colors too. A subtle print on the curtains also adds a good feeling to the room. Coming to window panels, you should always go for the ones that are at least twice as big and wide as the window.
10. Some extra jazz never hurts – While decorating your bedroom, put an extra focus on the bed too. A funky frame matching with the pillow case always looks attractive.
11. Keep a touch of nature right next to you – Flora always adds life to a dead space. A plant at the corner of the room or a small set of money plants on the window panel will always give more breathing space to you. You can also keep palm leaves to add a beach-y vibe to the room.
12. Murals and all – It isn't always possible to hire professional artists or designers to set a beautiful room up. As a pocket-friendly alternative, give peel-and-stick wall murals and patterns a try. They look classy and also within budget.
13. Mirror-Mirror, on the wall – Mirror is the best friend of home décor. They also keep the room bright and clear because light easily reflects through them, keeping dark corners out of the picture. Mirrors also add dimension to the room.
14. Paint your floor – Take that extra step by also painting your floor. Wooden floors are best suited to getting painted. A shade of brown goes with every wall color and texture.
15. Lighting – Last but not the least, the lighting plays a very important role in deciding the outlook of a bedroom. Keeping a subtle tone of lighting is always preferred for people who like darker hues. A shade of yellow lighting fits perfectly with rooms having a lighter tone of wall color. Lately, overhead fixtures have become very famous along with table lamps.
Adding a little bit of jazz to your bedroom never goes out of style because you spend a few of the most intimate and private moments of your life in it. These ideas are only a handful out of the huge sea of room décor ideas than can blow your mind.
---