Modern life has become full of responsibilities and all sorts of tasks that we sometimes forget to stop, take a breather, and just relax. That's why many people suffer from stress-related conditions, both physical and mental, just to try to keep up with the world. However, it's still important to take a second and unwind from it all, and since time is not always on our side, what better place to do it than home? Here's how you can transform your balcony into a perfect relaxation spot to enjoy some downtime.
1. Turn It Into A Mini Garden
Nothing screams relaxation more than nature, so why not put a piece of it right on your balcony? Greeneries are one of the top promoters of de-stressing and adding them to your balcony will also give it a more lively atmosphere. You can do anything from setting up a few potted plants to putting some effort and springing for a hanging garden or a vertical one. Try to add different types of plants and flowers that are colorful and smell nice for extra relaxing lounging.
2. Prep It For Social Events
If you're the kind of person who mostly hosts one event or the other at your house, why not mix it up and add a new space for your guests to enjoy? You can still use the sky bar option, or just go for a minibar and add a seating area along with some great lighting. If you have added a garden to your space, the professionals at Grow Light Info recommend using LED grow lights in your balcony to provide your plants adequate light and give off a great atmosphere for a party. If you're more into dinner parties, you can always go for a dining alfresco style with a countertop and bar stools.
3. Create An Intimate Setting
Do you live with your partner and you're both with full-time jobs and other responsibilities that you barely get to have a date night? There's no need to get all dressed up and go out when you're tired after a long day when you can have your date right on your balcony. All you need to do is set up an intimate setting with a comfy couch or a couple of chairs and a small table to have outdoor dinner along with some romantic candles. It will turn into your favorite spot to unwind with your loved one and spend some quality time.
4. Set Up A Sky Bar
Speaking of unwinding after a long day of work and errands, who doesn't like to do it with their favorite cold drink. This is another way you can take advantage of your balcony space and turn it into a make-shift sky bar. You just need to install a mounted shelf for all your favorite drinks along with base units. Add to that a comfy bench or couch and you've got yourself the perfect place to crack open a cold one either alone or with a friend and enjoy the fresh air as well.
5. Make It Your Private Sanctuary
One of the reasons people don't prefer spending time relaxing on their balconies is because of the nosy, peeping neighbors. However, you shouldn't let that stop you from having the outdoor haven of your dreams. There are, in fact, many ways you can eliminate this point of nuisance. If you choose to turn your balcony into a garden, you can use certain plants to shield you from the outside. You can also install outdoor curtains, bamboo panels, screens, or balcony railings.
6. Choose Furniture Wisely
All these ways to change your balcony and make your safe zone are great on paper, but when it comes to application, there are a few things to keep in mind. You must remember that for any idea you choose, you will need to add furniture pieces, whether a table, set of chairs, couch, or a rug. However, you can't choose these pieces as you would for the living room, for example. You need to choose furniture that can withstand being constantly outdoors with all the changing weather conditions.
7. Install A Spa Pool
Relaxing on your balcony while reading your favorite book or listening to music is a fantastic experience. So, upgrade your relaxation by considering installing a spa pool. A balcony, deck, or patio can be an excellent location for a spa pool. You can install one at the side of your balcony or on the deck, semi- or fully built.
A spa pool or small hot tub on a balcony is suitable for those who reside in apartments. They can enjoy relaxing in a portable spa after work or during their days off. Now more than ever, living in a city shouldn't stop you from availing yourself of a spa treatment within your home and enjoying life to the fullest.
Urban dwellers can install compact hot tubs on their balconies. Despite the small size of portable hot tubs, most have the same features as their regular-size counterparts, such as powerful hydrotherapy jets. Their low weight and compact size allow urban dwellers to feature them on their balconies to relieve stress after a long work day.
So, what are the best spa pools for balconies? Check out Trueform spa pools and spa covers or from any reputable company to know your options.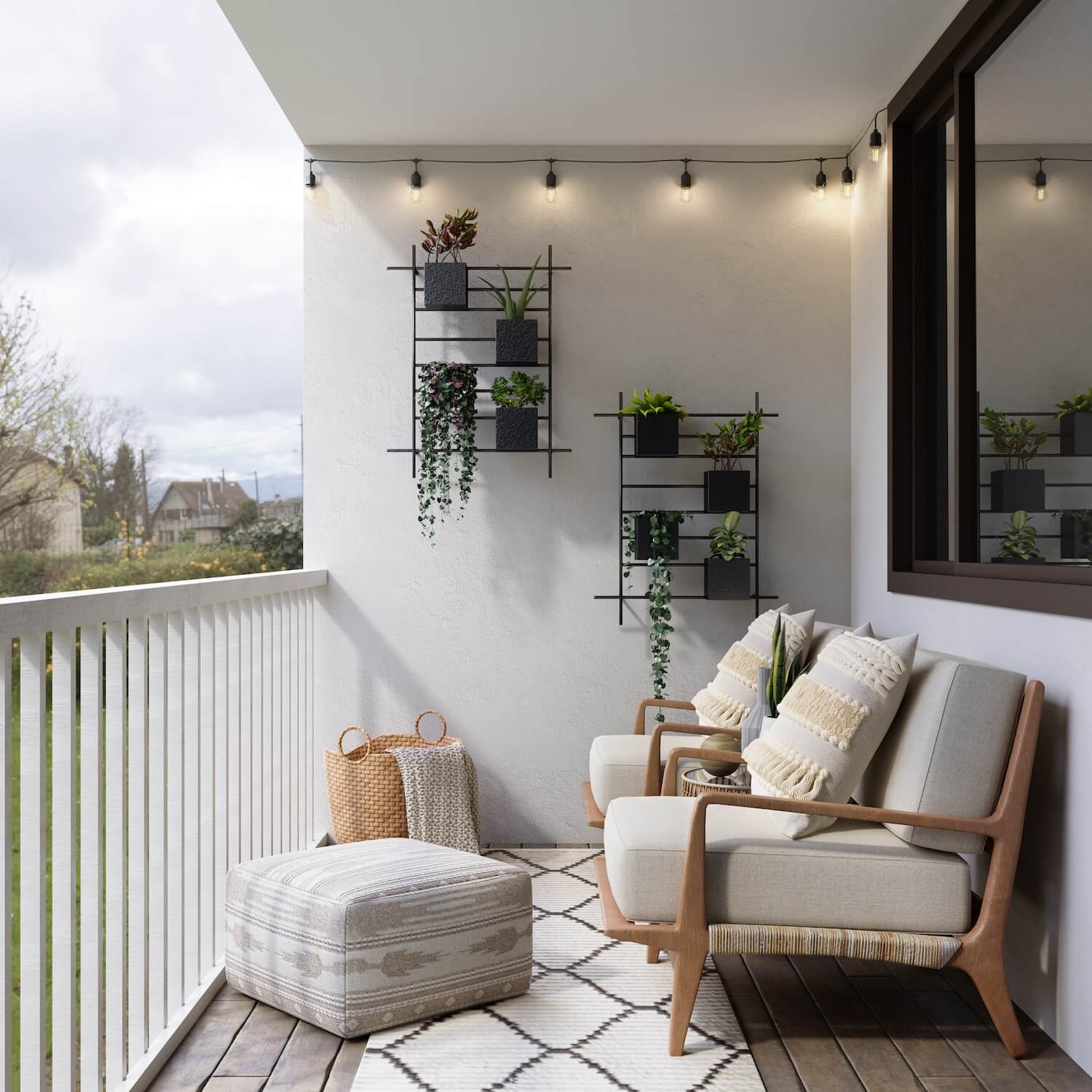 image © Spacejoy
There you have it, these are some of the top ways you can completely transform your balcony and make it into a relaxing spot in your house. It might take some planning and effort, but once you get it done, you'll thank yourself for doing it all when you're enjoying the refreshing fall breeze. It would be ideal in all weather conditions, even when it's cold, you can bundle up with blankets and a good book and enjoy the cool air!

---