The practicality of any home isn't just about the house itself but the outside space too. And a driveway is one of the biggest components that makes it functional and well-suited to modern living. Concrete has long been the material of choice for homeowners and builders thanks to its strength and hardness. But there's more than these qualities to consider when deciding whether concrete is the way to go.
Affordability
Per square meter, concrete is one of the most affordable materials to create a driveway with. However, it's always worth noting that it's rare when groundworks aren't needed first. And for those contending with wetter climates, designing some sort of drainage system isn't just sensible but is often compulsory. This is where hiring a specialist company comes in handy, but of course this can increase your concrete driveway cost considerably. So, although it's highly affordable, be aware of the extra costs involved with driveway installations.
Maintenance time and costs
One thing that is a certainty with concrete driveways, is the ease of maintenance. That's not to say it's maintenance-free, but it's not far off. Obviously, seasonal cleaning is needed to keep it looking its best, but this also helps to make it last. Keeping it free from oil, algae and other substances will protect its strength and ensure it doesn't become slippery. Over time, you may find cracks or crumbling problems but catch these issues early and they can be repaired with little time or cost.
Long-term durability
The life expectancy of a concrete driveway is surprisingly long. In fact, it can last up to 50 years as long as it's laid well and cared for. That makes it incredibly cost-effective over time. To improve the durability, it's wise to make sure it's installed and left to cure properly. But other stress-causing factors such as weather conditions, will be out of your control. So, it's worth checking whether concrete is the best material for your home compared to other materials such as tarmac and block paving.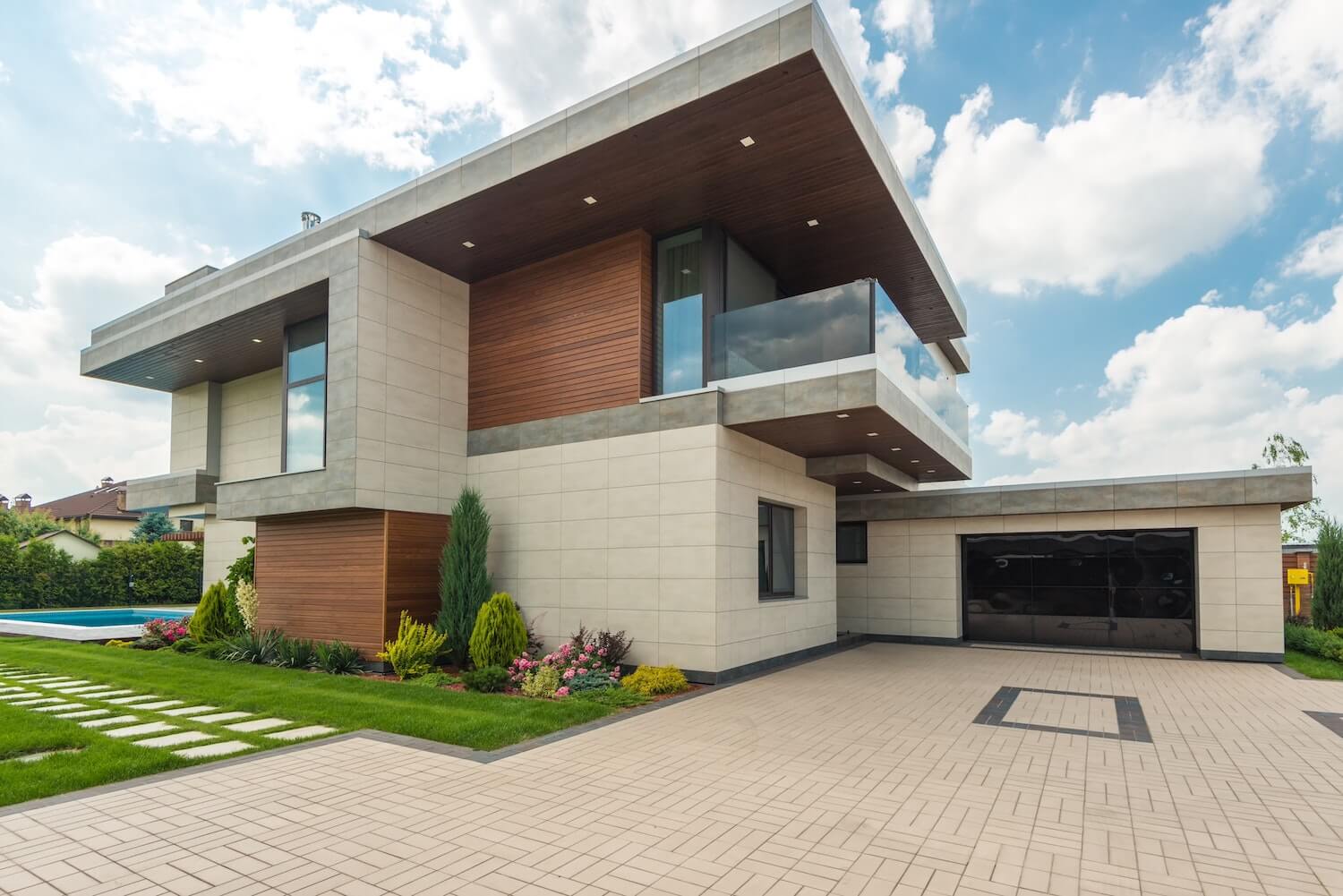 image © Max Vakhtbovych
Versatility and choice
Concrete isn't known for its attractiveness. However, this construction material is more versatile than you may think. It's possible to add color to it, so it can stand out with a terracotta red or look more natural with beige, brown and grey tones. Smooth and textured finishes are possible using different techniques and aggregates. And for added style, an imprinted pattern is also an option. This can mimic pavers, tiles or cobbles to achieve a more expensive look.
Flexibility
As it's poured into the ground, concrete is a great material to use on awkwardly shaped driveways. And it's equally good at creating a sweeping or curved effect to add character to the front of the home. As long as you prepare the ground first and plot out your edging, it can be worked into just about any shape or size of area. It works on both flat and sloping driveways, so it gives you a huge amount of flexibility.
Other considerations
Before making any decisions on installing a concrete driveway, it's important to weigh up all of the considerations – positive and negative. And as it can be incredibly difficult and labor-intensive to remove, it's important to make the right choice.
One way to get a feel for the look of the material, especially once it has aged a bit, is to take a walk around your neighborhood. Not only does this give you a clue to how the local climate affects the look and performance of concrete and other materials, but it can help you visualize the end result. Don't be afraid to knock on a few doors and ask a few polite questions about how long they've had their driveways and whether they're happy with them. You may find this throws up considerations you'd never thought of before. So, it's a useful exercise to do.
---