Are you struggling to pick the right roofing style for your home? Every house needs a roof, and it's an important decision that will have long-term implications. You don't want to buy something without understanding all of your options - it can be confusing! In this blog post, we'll look at different types of roofs, styles, and materials in order to help you make the best choice when deciding on a new roof. We'll talk about features like durability, energy efficiency, and aesthetics while exploring what each type of roofing has to offer. Together, let's figure out how to choose the right roofing system for your home in order to ensure maximum performance, safety, and satisfaction.
Understand the Different Roof Styles
When it comes to selecting the right roofing style for your home, there are so many options available that it can make your head swim! Luckily, if you understand the different types of roofs available, you'll be able to decide what works best for your needs. Traditional gabled and hip roofs come in all shapes and sizes; plus, people often mix styles to make multi-level roofs. If a flat look is more your style, there are classic flat or shed-style roofs. Gambrel or barn-style roofs also bring added flare while adding additional space up top. So take your time, do a little research, and understand the different roof styles before making any solid decisions on what's right for you. Remember, to quote this roofing contractor in LA, a roof that protects 99% of your home isn't a roof. Plus, you want to make sure that your roof looks good too!
Consider Your Climate
When it comes to selecting the right roofing style for your home, climate should be an important factor in your decision. From heavy snowfall to intense sun and rainfall, the elements take a toll on your roof every day. Different climates create different weather events that can cause wear and tear on even the toughest materials -- so make sure you choose something that's up to the job. Depending on where you live, you might need ventilation options to keep air flowing through your attic or upgraded shingles for more protection against hail and high winds. And in warm environments, lighter colors may be best for keeping the sun out of your home during the hot summer months. With a bit of research into your particular climate, you'll be able to find the right style of roofing for you and ensure everything stays safe and sound in your house.
Evaluate Your Home's Aesthetics
When it comes to choosing the right roofing style for your home, evaluating your home's aesthetics is a critical first step. Before deciding on any one specific look, take time to consider the overall style of your house and its particular attributes like color and texture. Do you gravitate toward a classic, timeless aesthetic? Or are you more interested in modern lines and shapes? It's important to know what direction you'd like to go in before exploring different materials and styles of roofing that may clash with the current aesthetic of your home. After all, the goal is to choose a roof that complements the existing architecture!
Think About Durability
When it comes to your roof, you want to make sure that you are investing in something that is going to last. That's why it's important to consider the durability of different roofing styles when making your selection. You'll want to look at the levels of protection each style provides against elements such as sun and rain. Another factor to keep in mind is whether or not a given style requires more frequent repairs than other options available on the market. Ultimately, take the time to research different styles, so you can find one that is going to give you years of reliable performance and value for money. Keep in mind that the more durable a roof is, the longer it's likely to last!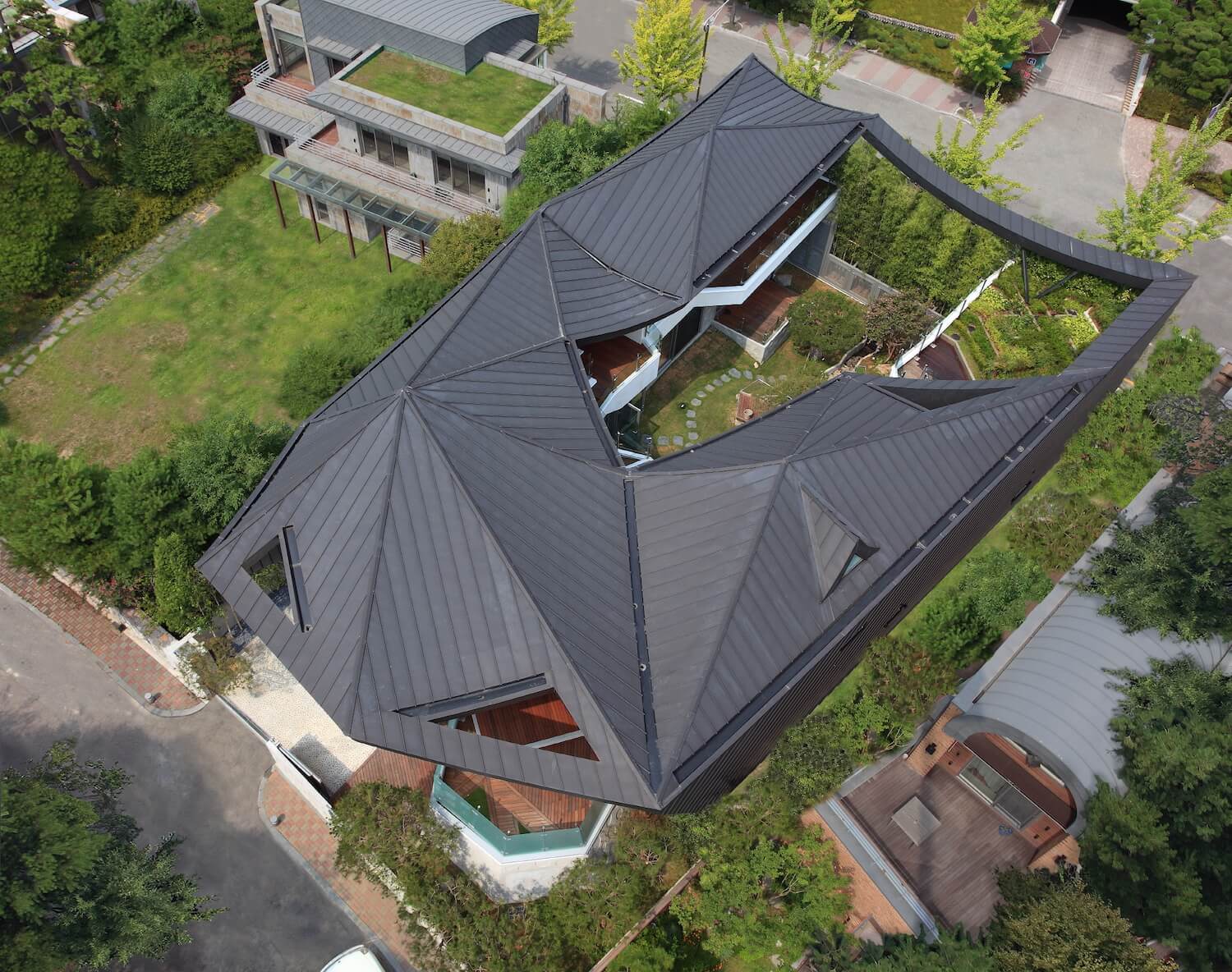 Ga On Jai House in Bundang-gu, South Korea by IROJE KHM Architects
Choosing the right roofing style for your home is essential for both aesthetic and practical reasons. Every homeowner should take the time to evaluate how their specific climate, aesthetics, and needs will be affected by their chosen roof style. With so many options available, there is sure to be a perfect fit for any home. Consider the advantages and disadvantages of each option before making your decision; if you remain unsure, you can always seek professional advice. No matter what roofing style you choose, it is important to keep in mind that a well-maintained system will last longer than one that isn't cared for properly. Given the right amount of love and attention, any roof can become an excellent asset to your house, greatly improving its value as well as your peace of mind!
---