When setting up a new garage, there are many different things to consider. You have to decide on the size of your garage and where you want it, how much work will be required for construction, what type of material to use, etc. Here are some useful tips that will help you get started with setting up your new garage!
Install Storage Units For Tools And Items
The most essential thing for every garage is that it needs to have space for everything to be stored away. The best help in these situations is garage cabinetry that will help you declutter the space. These storage units should be installed in the garage to provide storage for all tools and items.
There are two styles of cabinetry: wall-hung cabinets that go into walls or floor-standing which stands on legs just like a table. You can choose between these depending on your space availability, budget, etc. Such garage cabinets will help you get organized so it's easier to find tools and items while setting up a new garage.
Have A System To Sort Everything
A well-organized garage means that you can find what you need when it's needed. The key to setting up a well-organized garage is creating a system that works for everything from cars and tools to groceries and gardening supplies. Start setting up your new garage by considering the following tips:
Start By Creating A System For Your Tools
Whether they're power tools or hand tools, nothing will make setting up a new garage easier than having organized tool storage. Before going out and buying cabinets, consider organizing your existing collection of tools using plastic totes. You'll be able to store many different types of items in one place instead of trying to find separate places for each item type.
Here's how to sort them:
- Tool Boxes – Sort your toolboxes by type of tools.
- Small Tools – These are probably going to be the most difficult types of tools to store because they're small and many of them look alike.
- Power Tools – Store your power tools in one easy place by using pegboard panels for hanging drills, sanders, saws, and other types of equipment.
- Larger Tools – These are probably going to be stored outside, but that doesn't mean you should just throw them into a pile and hope they stay organized.
Install A New Door
This is the best chance for you to install a remote-controlled garage door. The truth is that setting up a new garage will take time and money, however, you can add some extra features in order to make it easier for yourself. In addition, the process of setting up a new door does not have to be complicated at all. This means that you should keep your focus on finding the right company which offers quality services.
Have A Designated Work Area
Make sure to leave enough space for your work area and that it's in a convenient location. You'll want to be able to easily get into and out of the garage with your car if you're setting up stalls for working on cars or doing repairs. It can also feel more like home than just an empty warehouse, so make sure there are comfortable spaces by setting up seating areas where friends and family members can relax when they come over to visit!
This space should be within reach of your tools so that you aren't constantly having to get up and down when you need something. You'll also want enough storage space for all of your tools or products, so setting up shelves will help keep everything organized!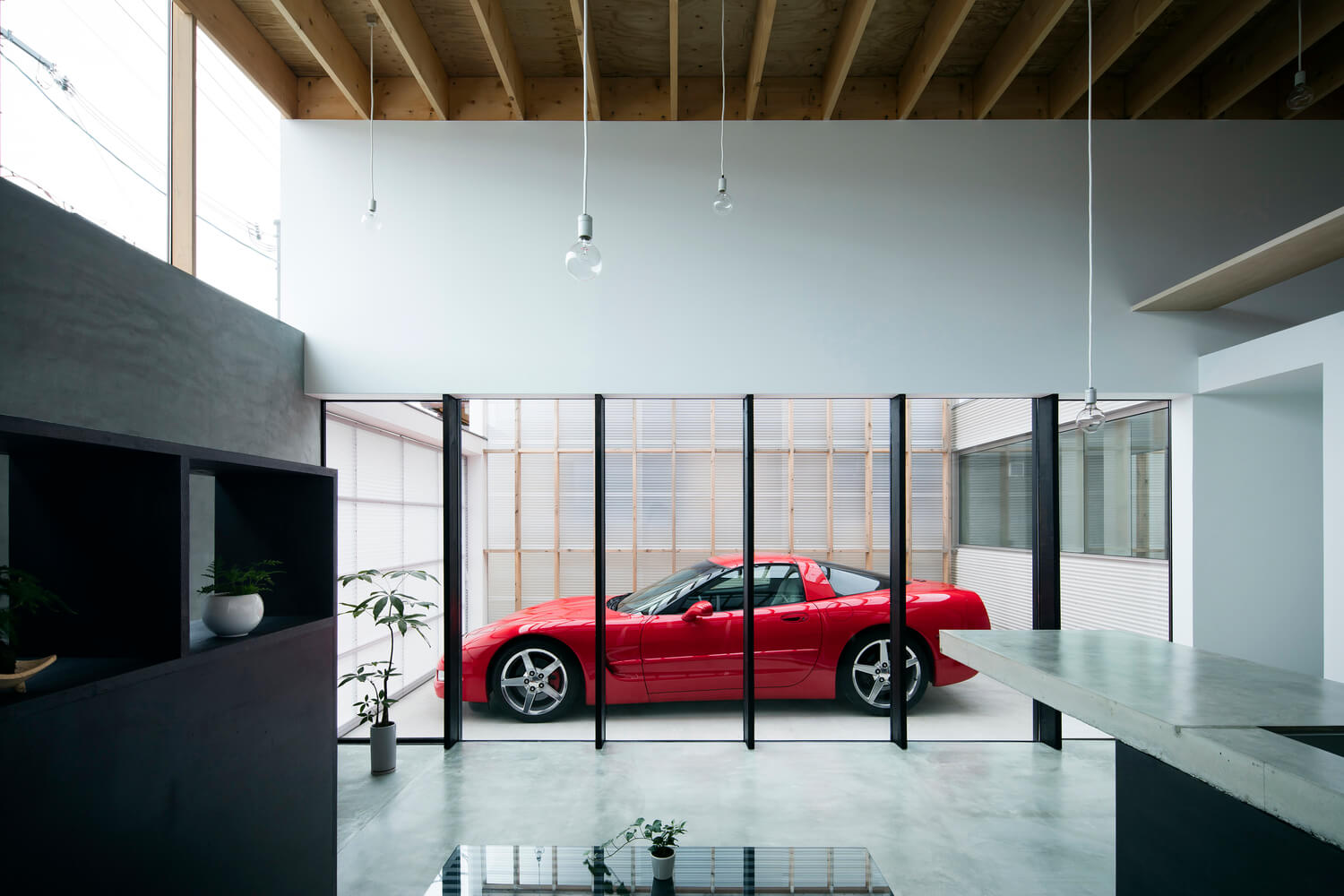 Garage Terrace House by YoshiArchitects, image © Eiji Tomita
Repaint The Walls
You should use this remodeling opportunity to repaint the walls. You can paint the walls a different color, or you could repaint them to match your new garage door and any other part of your home that is being remodeled at this time.
If you want the traditional appearance of brick painted on one wall, then choose lighter colors for all four walls in order to create balance throughout the room.
If you are setting up a new garage for your business, then you might want to paint the walls black or gray in order to convey an image of strength and success. You can also choose colors that match the products being stored in the garage so customers will be able to easily locate what they need when coming into your place of business.
Install Better Lighting
Lighting is essential, especially if you'll spend a lot of time in your new garage. You won't have to worry about setting up proper lighting yourself since you can simply call an electrician. If you want even better results, take care of installing additional lights which will illuminate your garage more thoroughly. This way, there's no need for working in the dark!
You probably know how your dream garage would look like and that starts with storage areas without which you cannot do anything. Sort your tools and install a new door. Make enough space for your work area. For better vision, repaint the walls in brighter colors and install better lighting. Have fun working in your new garage!

---