The outdoor kitchen has been growing in popularity for a while now, and it doesn't seem like the trend is going to die down anytime soon! More and more homeowners are turning their backyards into entertainment areas, with home bars and grills as focal points. If you're considering an outdoor kitchen of your own, we've got six DIY outdoor kitchen design ideas that will help you get started.
1 - Add a Sink
Adding a splash of water makes all the difference. If you have the space, adding a sink will be one of the most useful DIY outdoor kitchen project design ideas around. It makes cleaning up after cooking much easier, and if you have a pool or spa it's an easy way to keep the water clean. A sink implies that your outdoor kitchen is intended to be more than just a grill station, that it's intended as an outdoor cooking area. When you have an outdoor kitchen, you want to be able to do it all! You want a sink so you can wash your dishes and get ready for the next meal. With this DIY design idea, you don't actually have to install a big sink. You can opt for a simple dishpan that can be filled with water and used as a sink, or you can get creative and use something that you wouldn't typically use as a sink in its place.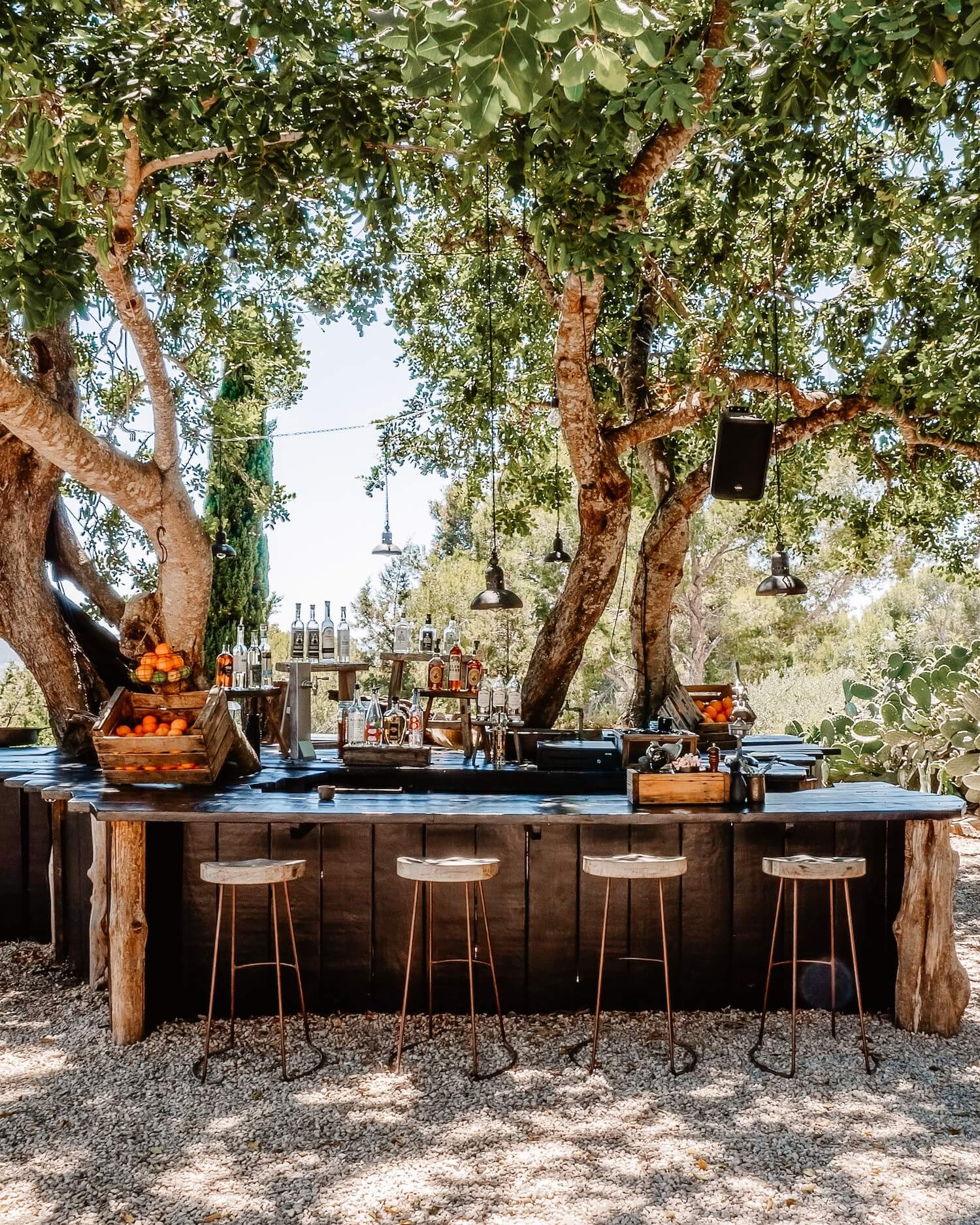 image © Ibiza Ibiza Ibiza
2 - Eco-Friendly Outdoor Kitchen Design Idea
If you want to make your outdoor kitchen as eco-friendly as possible, there are a number of DIY design ideas for that. One idea is to use recycled materials. Old shipping pallets are one of the best things to use, since you can make some really great outdoor furniture out of them, and you can do the same thing for your outdoor kitchen. You can use old crates or boards to create cutting boards, storage units, and just about anything else you can think of for your outdoor kitchen. For this project, you'll need no more than a few essential tools for cutting your palettes, crates, and boards. And if you happen to have an angle grinder, you can purchase a few CBN grinding wheels and use them for cutting the wood pieces. Another eco-friendly DIY design idea is to make your own sink out of a large bowl, wooden boards, and cinderblocks. It won't cost you much at all! It's as easy as taking advantage of recycled materials. Even just using old wood pallets as the base for your outdoor kitchen will save you money and be an eco-friendly alternative to buying new wood!
3 - Clean and Simple Outdoor Kitchen Design Idea
One of the best DIY ideas when it comes to outdoor kitchens is just keeping things simple. When you're trying to create your ideal outdoor kitchen, you don't want to go overboard. This can be a problem for some people, as they see the outdoor kitchen as an all-inclusive entertainment area. They want it to be just like their home bar or kitchen, which is not what an outdoor kitchen should be designed as! Doing this can get expensive, and it takes up a lot of space. Keep things clean and simple with an outdoor kitchen, and you'll get the most out of it. Keeping it simple also means keeping it organized, which you should always do in general with outdoor kitchens.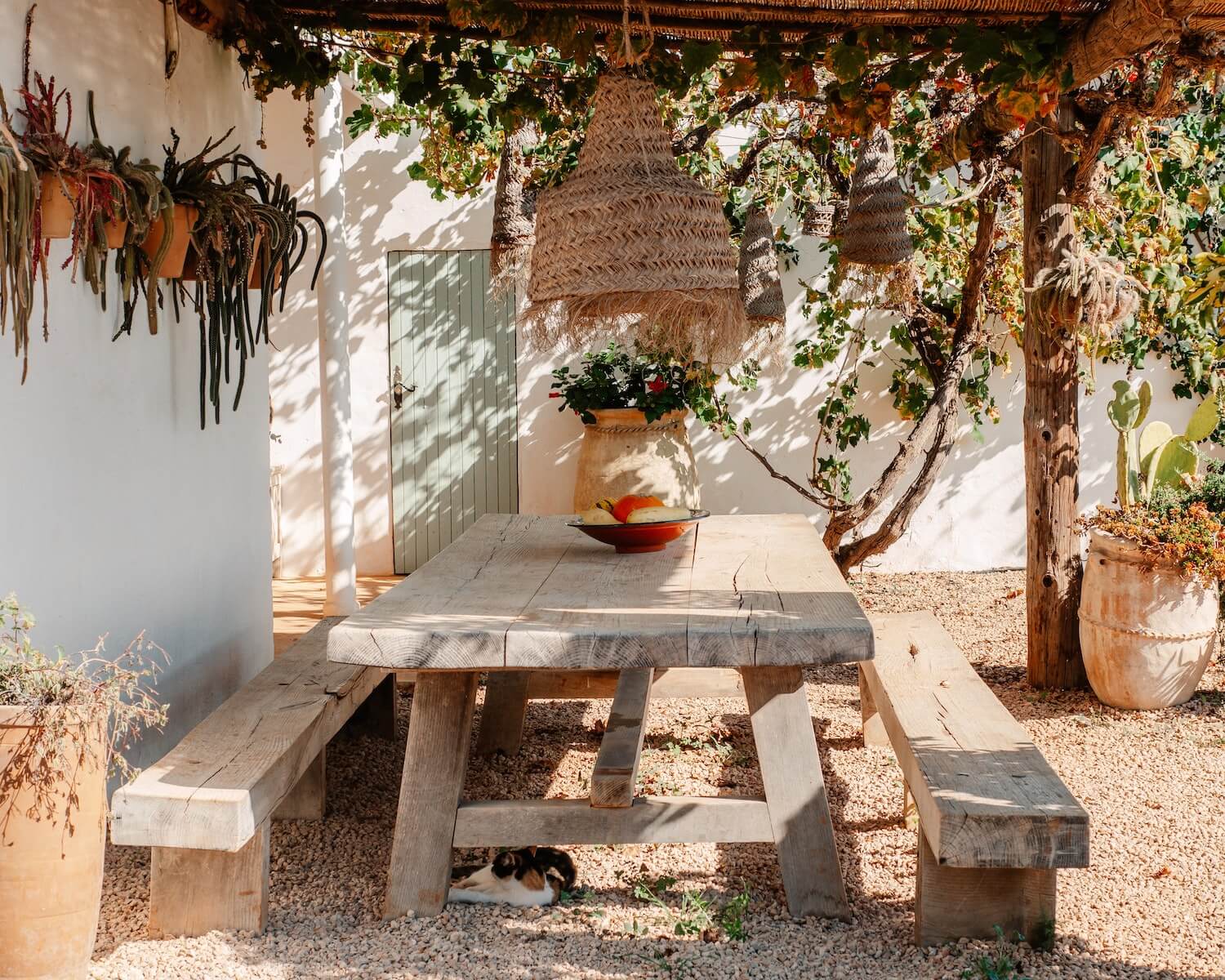 image © Ibiza Ibiza Ibiza
4 - Outdoor Kitchen Table Design Idea
This is a unique DIY design idea. Instead of creating a wooden table for your outdoor kitchen, use an old door as the tabletop! You can paint the door in any design you want, but keep it simple, so it doesn't overpower your other decor choices. You can also add legs to make it a little more sturdy. Table space is a must for an outdoor kitchen.
5 - Outdoor Kitchen Island Design Idea
Another great option for outdoor kitchen design is the island-style, perfect for cooking different things at once or hosting a party! This DIY project brings that idea into play with an easy to assemble wood frame and base with butcher block countertops on all sides of the island. It'll give you plenty of workspace, plus a place to store your bar tools, which is built-in storage!
6 - High-End Outdoor Kitchen Design Idea
If you're truly looking for the best outdoor kitchen design idea possible, this high-end project takes things to the next level. This stunning outdoor kitchen includes everything you could ever want and more, from a convertible grill to a bar sink and a kitchen island. The gorgeous cabinets give it an elegant touch that will really impress your friends and family!

The 6 DIY outdoor kitchen design ideas that will help you are just what you need if you're thinking of building your own. Whether it's fitting in with the eco-friendly trend or simply creating a clean, simple space for cooking and entertaining guests, these projects offer plenty of great functionalities without costing too much money to build.

---